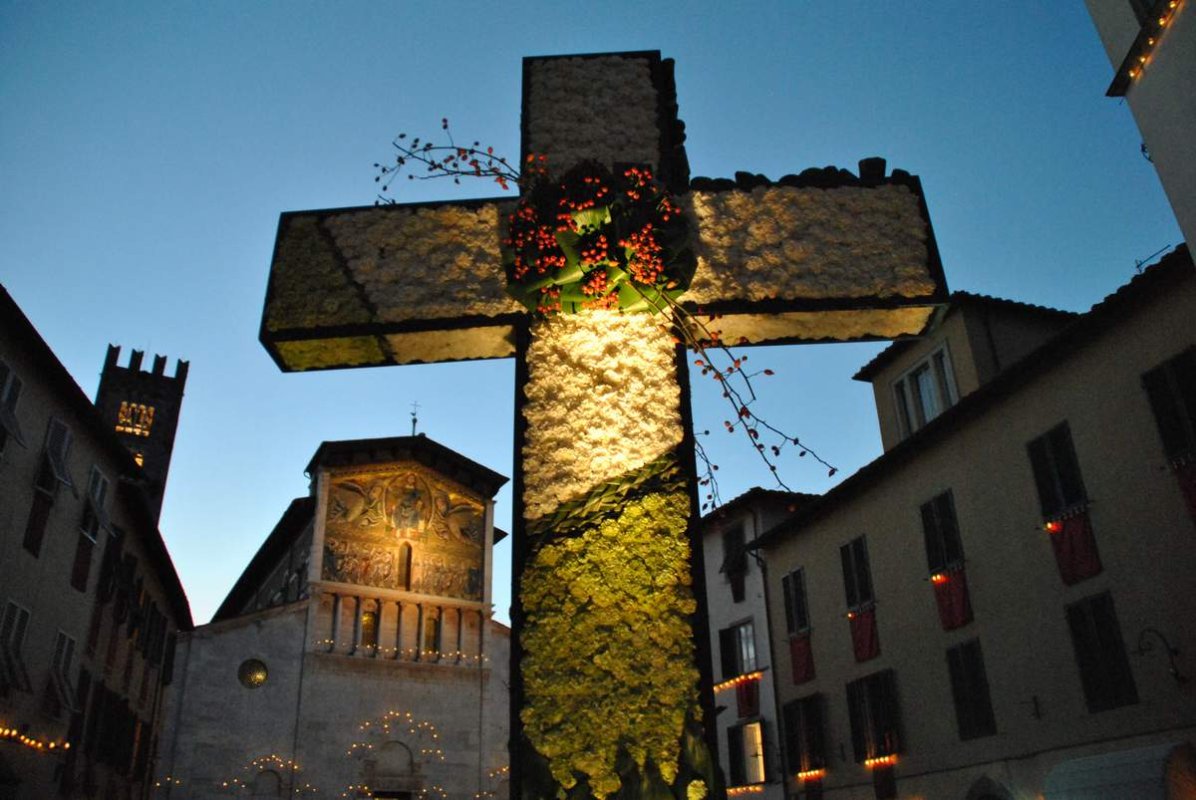 Photo ©Domenico Bertuccelli
Every year, the city of Lucca celebrates Santa Croce in great style. The events begin on the evening of September 13 with the evocative Luminara di Santa Croce held through the streets of the historic center. For the occasion, the streets and squares are lit up with thousands of lights and candles, while people in medieval costume parade through and mix with the onlookers.
The nighttime procession follows a very specific protocol and itinerary – specifically, the "miraculous route" of the Volto Santo, the wooden crucifix housed in the Cathedral of San Martino, the center of local religious life. The reliquary was transported from Luni to Lucca and deposited in the church of San Frediano where it was venerated.
The court procession opens with the Stendardo del Volto Santo, a work painted by the Lucchese artist Michele Marucci at the end of the 19th century; next up is the Croce di fiori (Flower cross), carried out each year by the flower cultivators of Viareggio.
The itinerary begins in the basilica of San Frediano, continues along via Fillungo, and then moves toward piazza San Michele, piazza del Griglio and, finally, ends in piazza San Martino.
For some years now, the tradition of the mottettone has also been reinstated – a performance of a polyphonic composition, usually composed specifically for the occasion by predominantly Lucchese musicians, who close out the evening celebrations in the cathedral.
The festival continues on the next day as well. On September 14, a solemn mass is held, giving participants the chance to venerate the Volto Santo which, according to legend, arrived from the Holy Land and reproduces some of Christ's key features.
Lucca
A bastion-protected medieval city and a blast of comics, culture and colors
Many people born and bred in Tuscany consider Lucca an outlier—it's not uncommon to hear Florentines mutter "that's not Tuscan", probably when referring to the bread, which is salted in Lucca and strictly plain elsewhere in Tuscany; or to the Lucchese people's mode of speaking (unique, to say the least); or to the fact that Lucca is the region's only city-state to have preserved its ...
Morekeyboard_backspace