Main courses
Contemporary Tuscan cuisine: pigeon with turnips, shallots and chard
A long time ago, pigeon was a staple food for farmers as it was easy to breed in farmyards. It's said that pigeon was cooked to celebrate the height of the summer in mid-August and many villages still dedicate a food festival to it, such as the Sagra del Piccione in Montecchio, near Cortona, from late July to early August.
We received an invitation from a restaurant specialized in contemporary Florentine cuisine "La Bottega del Buon Caffè" to take part in a cooking show by Chef Antonello Sardi and this is what we learned.
Check out here how to make pigeon with turnips, shallots and chard: fried thighs and pan-fried breasts, decorated with flowers and accompanied with turnips, creamed chard and shallots. All of the vegetables come from the restaurant owner's estate in the Siena countryside.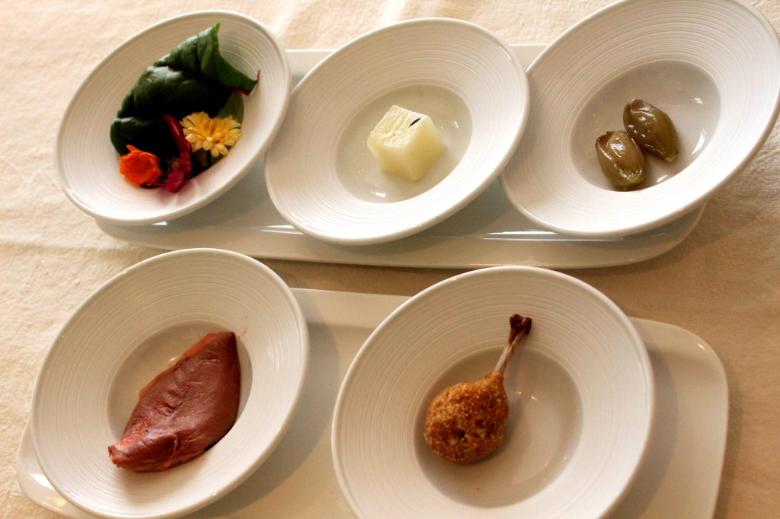 4 pigeons
8 shallots
Edible flowers
A bunch of chard
4 white turnips
Extra virgin olive oil
Breadcrumbs
Port
Extra virgin olive oil
Salt
Bone the pigeon and set the breast and thighs aside.


Prepare a broth with the pigeon bones and let it evaporate to make a dense sauce


Roll the thighs in breadcrumbs


Bake the white turnips and the shallots at 180 degrees for an hour
Boil the beets in salted water and blend them to make a smooth cream
Cook the pigeon brisket with a little olive oil in a hot pan just on the side with the skin
In the same pan, sauté first the white turnip and then the shallots with a bit of Port.
Spread the beet cream on the plate.


Arrange the white turnip, the thigh and the breast covered with the sauce and a drizzle of olive oil
Finally, decorate with edible flowers.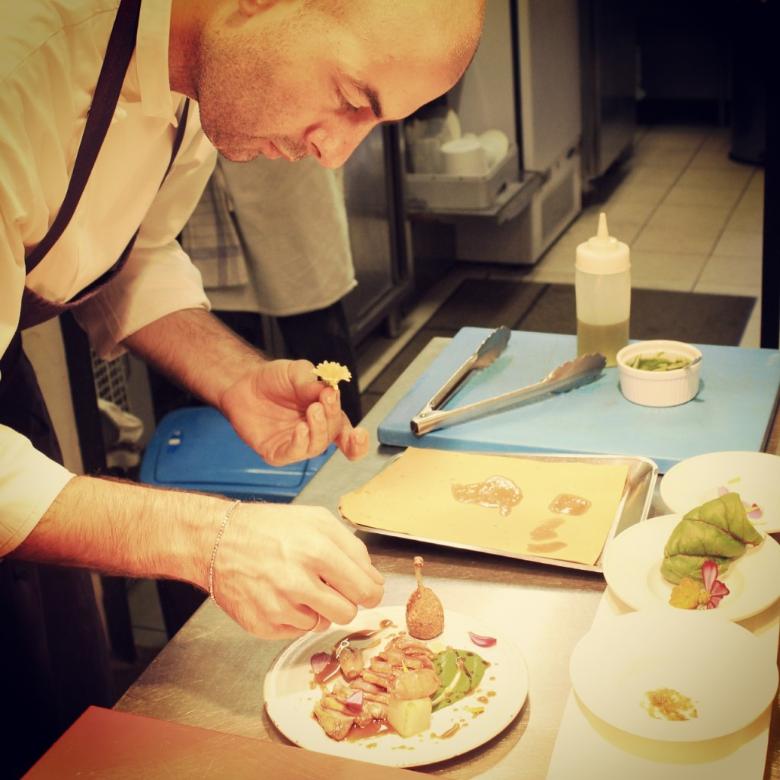 About Antonello Sardi and La Bottega del Buon Caffè
Antonello Sardi is the young Florentine chef at La Bottega del Buon Caffè in Florence. Designed by Jeanette Thottrup the restaurant offers the freshest ingredients daily from Borgo Santo Pietro's own farm and creates fancy seasonal dishes.
You might also be interested in