A bike route through the Metalliferous Hills
Discover unspoilt nature on your bike
This route runs through the nature and the small towns and villages of the Maremma.
Point of departure and arrival: Montieri
Difficulty: medium
Road surface: Asphalt
Distance: 23 km
Total climb: 420 m

The most challenging stretches are the short hill towards Travale and the last 5km before returning to Montieri. Good eating spots can be found at Gerfalco and Travale; you can fill up on water at Lame.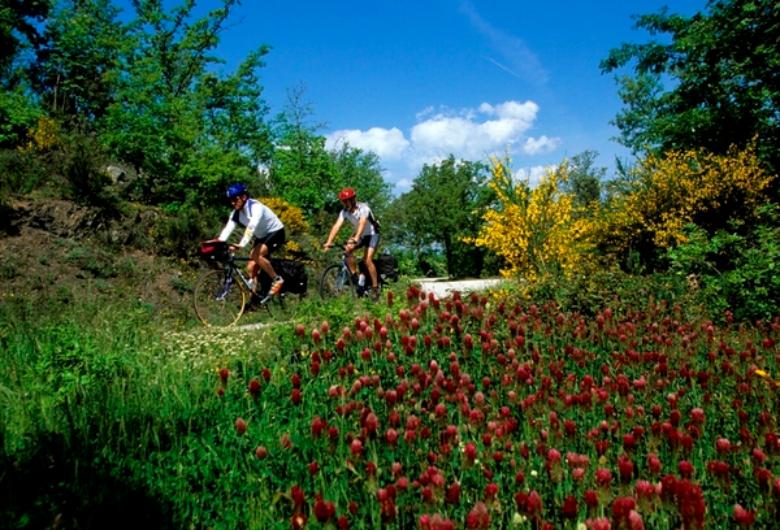 The route starts in Montieri. From the town, head uphill for 200m on the road, which starts on the right of the Palazzo Comunale and leads into the road behind the town. From here, continue uphill for 600m until the junction with the SP 11 'Pavone' road, where you should turn left towards Gerfalco: there are beautiful panoramic views on the right over the woods around Gerfalco and the hills above the Cornate Nature Reserve.

After 3.5 km leave the S.P. 11 and head towards Gerfalco on the S.P. 71.The road overlooks the coast on the left and Cecina Valley and the Siena area on the right. You can also see the only two mountains in the Metallifere Hills over 1,000 metres.

After around 2 km you will reach Gerfalco (6.3), 860m above sea level. The village has a beautiful historic centre – we recommend a visit. From here continue to the left, following two wooden signs for Cima Le Cornate and Fonte Il Canaluzzo. After 500 m the road becomes a dirt track. Continue downhill and after around 1km the road curves to the left where you should stop to admire the view over Cecina Valley. The dirt track continues downhill past viewpoints and through forests, and you will cycle past some well restored traditional cottages.

After you reach the valley floor (8.5) head uphill and after 200m you will get to a fork in the road where you should keep left. This will take you to Lame (9.4). Continue uphill and around 200m beyond the town you will come across a spring on the left. Shortly afterwards you will come to a fork in the road (10.2). If you continue to the left you will arrive at Fonte del Canaluzzo after 600m. The route, however, goes right, and heads downhill, ending up on the valley floor near a bridge over the Cecina river (15.8), at which point the road becomes asphalt once more.

From here the 1km uphill stretch towards Travale begins. Shortly after, turn left at the T-junction (the right hand road will take you to the centre of Travale – the castle is well worth a visit) which will take you to the SP 5 heading right towards Montieri. At the junction there is a restaurant. Montieri is around 5.5 km from here, up a steady hill. You will end up back in front of Palazzo del Comune (23).
You might also be interested in