Viareggio's Carnival: history, info and tips
Discover more about one of the most important Carnivals in Italy
Viareggio is known as a seaside resort in the area of Tuscany called Versilia, but also for one of the most important Carnivals in Italy. This post has the aim of explaining what it is, how it works and to tell you its long history.

Viareggio is a very charming town with a large street by the seaside that is good for walking, running, riding a bike or shopping in the many glamorous shops along the promenade. During Carnival, that very same street becomes a 2 kilometres long circuit where more than 1.000.000 people from all over the world come to take part to this unique event.
History of Viareggio's Carnival
The Carnival of Viareggio was born in 1873, when a group of artisans and sculptors started building astonishing carriages. It soon became a popular party for a joyful city. At first it was held in Via Regia, in the heart of the old town. Then, at the beginning of the twentieth century, it moved to the long street along the seaside, growing in size and popularity year after year.
During World War One the Carnival stopped until 1921 and then again during the World War Second. In 1946, the Carnival of Viareggio flourished again, returning even more beautiful than before.
The symbol of Viareggio's Carnival is Burlamacco (see the mask in white, black and red below), which was created in 1930 by Umberto Bonetti.
In 2001 the new "Cittadella del Carnevale" (Carnival's Citadel) was inaugurated: it is an extraordinary architectural complex entirely dedicated to the creation and preservation of the Carnival of Viareggio. It has sixteen hangars, where the allegorical floats are built, overlooking a giant elliptical square.
The Cittadella is also the place where during the summer the biggest outdoor events take place. Here visitors can find two museums, one dedicated to the history of the Carnival floats and the other to Carnevalotto, a valuable collection of works of art created by contemporary designer.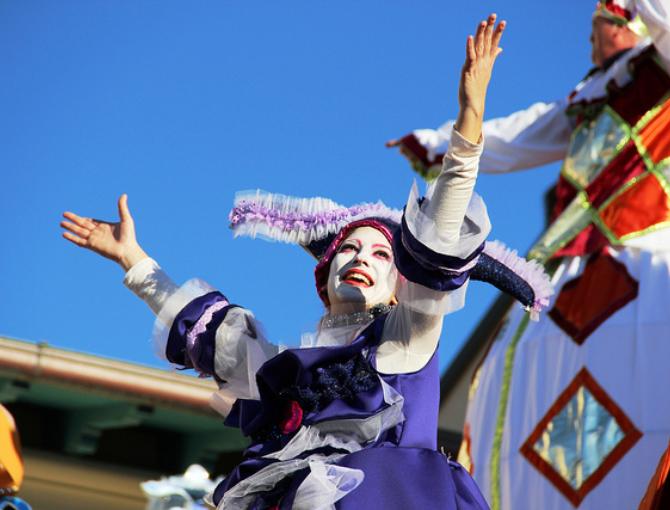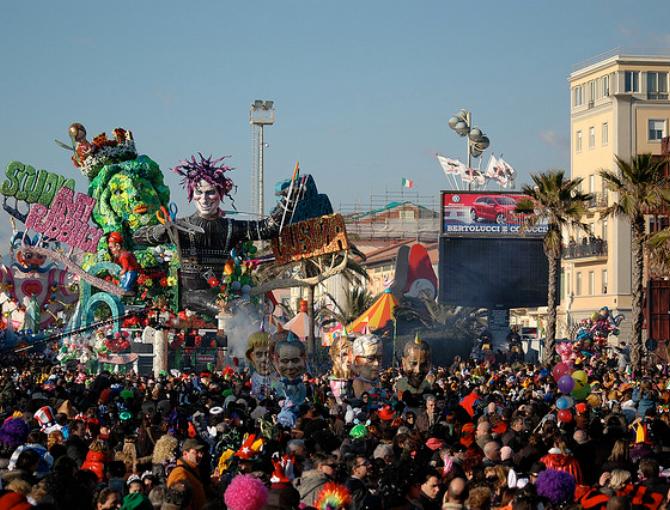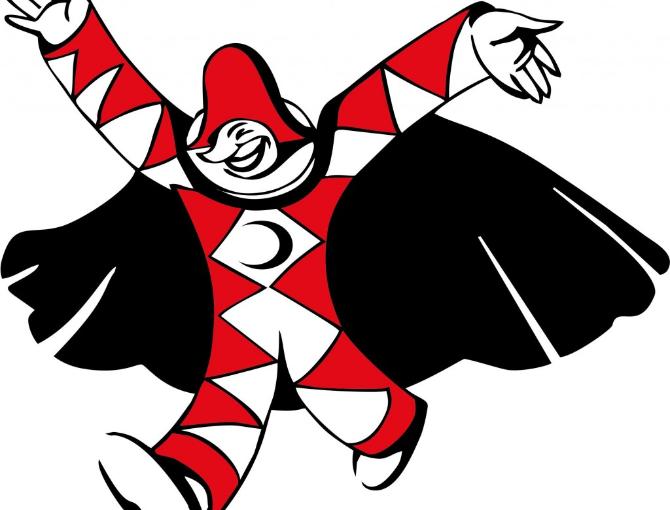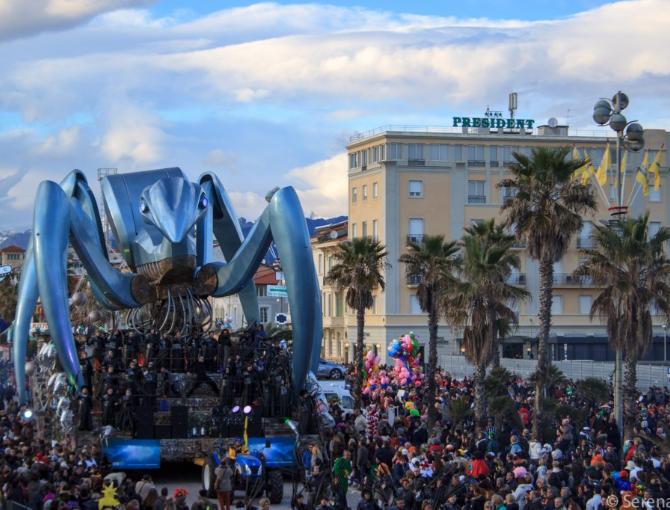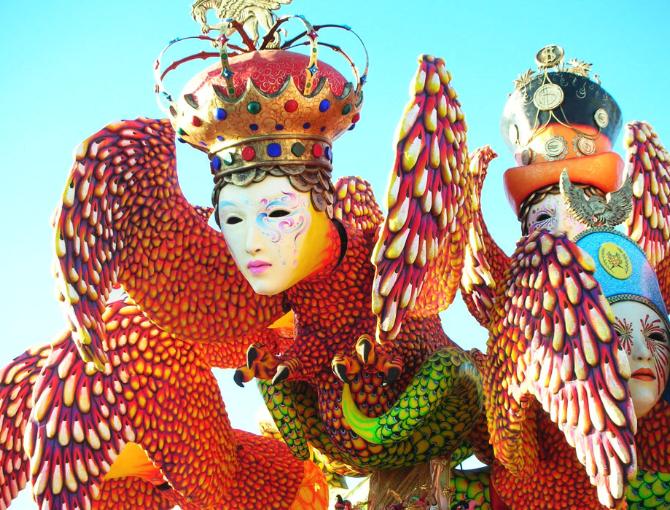 The raw material of the Carnival of Viareggio is papier-mâché or rather the paper mold. Paper mold allowed to build light but huge works. Models in clay, plaster casts, newsprint and glue, with flour and water, are the simple ingredients of the biggest show of its kind in the world.
The Carnival takes place every year in February (the exact dates change every year depending on the Easter). For a month, the city is transformed into a factory of fun with parades of giant papier-marché floats, night parties, fireworks, theatre, food events and big sporting events (like the Viareggio World Cup Football Tournament Coppa Carnevale).
To take part in the Viareggio Carnival you need to buy a ticket .
More info on the prices on the official website of the Carnival.
Don't forget that there's also a summer Carnival in Viareggio!
You might also be interested in