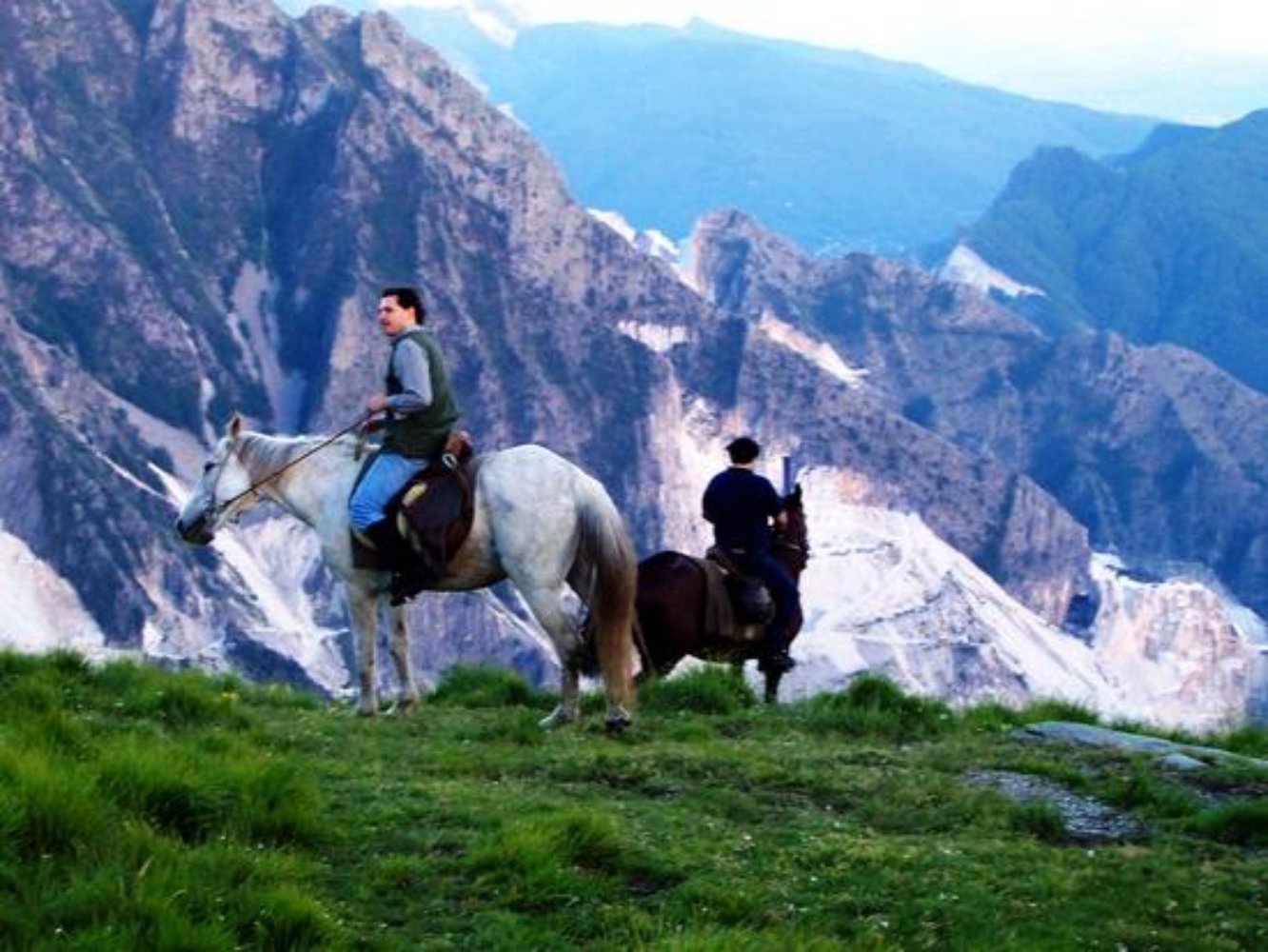 The Apuan Alps and its marble
Nature and marble itineraries all in one
The Apuan Alps were considered in the past hard, inaccessible mountains but today an evermore curious tourism has renamed them as a territory of great interest, not only for the presence of marble quarries and the marble industry, but also for the numerous opportunities that they offer from the naturalistic, spelaeological and excursionistic points of view. Carrara, Massa, Pietrasanta, Camaiore all with their respective "marinas", are coveted bathing spots while among the white peaks is a gastronomic product recently crowned by the "DOP" (Protected Denomination of Product) that is a real tourist attraction: the celebrated lardo di Colonnata that some still "corn" inside the ancient marble pits.

Not to be missed is a visit to Pietrasanta: the little Athens of the Versilia, so-called for the concentration of artists that have decided to make it their home, boasts ancient roots in marble working. Reminding us of this are the imposing peaks of the Apuan Alps that stand out in the background. The air is still Michelangelo-esque in the town's old laboratories, among which the ancient Studio Cervietti in via Sant'Agostino, where it is possible to meet artists such as Botero, Mitoraj or even Gina Lollobrigida who for many years has been busy in sculpture. The historical town centre is elegant with its many art galleries, boutiques of fashionable stylists and prestigious wine shops.

The marble of the Apuan Alps is made up of different compositions and its purity and crystalline grain, on the basis of which it is given its value, vary according to the place of extraction. The "statuary" of Carrara is for example of a very white quality and very fine grain, while the "veined white" is of large grain and is characterised by numerous veins that come from the impurities contained in the original limestone. The best time for a stay in Pietrasanta is definitely in summer, when the art exhibitions multiply in the galleries and piazzas as do the shows of the nearby Villa Versiliana in Marina di Pietrasanta. For tours of Carrara and its marble quarries please telephone: 0187 187 0873.
You might also be interested in
Riviera Apuana
Sandy beaches not far from the slopes of the Apuan Alps and majestic marble mountains: this is the enchanting stretch of a coast perfect for endless days of relaxing at the seaside and incredible excursions in the hills. ...
Scopri Riviera Apuanakeyboard_backspace