Skydiving in Tuscany
Tandems over Florence and along the Tuscan coast
Florence, Lucca, Arezzo and the coast: take your pick from the skydiving centres in Tuscany, where beginners can have their first freefall experience safely attached to a professional tandem instructor or experienced parachutists can explore the skies to their heart's content.
Take your sightseeing of the Renaissance city to the ultimate level with this mind-blowing experience. The professional English-speaking team of Skydive Dream Florence perform a briefing before you take to the skies, making the unbelievable tandem leap at 4,000 metres over astonishing views of the cathedral, Santa Maria Novella and the Boboli Gardens. The instructor allows you to take the reins, guiding the canopy in the breeze, before resuming control for landing in the verdant grounds of Villa Strozzi Machiavelli, in Florence's south side, near Porta Romana. As an added bonus, videos and photos are available to make the momentous occasion. It's the perfect first skydiving experience.
Info: skydivedream.com
Expect unforgettable views of Lucca's historical walls, the sea and mountains during tandem jumps at Lucca Skydiving School. The focus here is on the educational with a 45-minute briefing, followed by videos and photos after the skydive, so that you can learn from the experience. The plane climbs higher, releasing parachutists at approximately 4,300 metres, allowing for more time in the air. Experience the excitement of the exit from the airplane, the feeling of freedom in freefall and the pleasure of flying under the canopy with a certified tandem instructor. There's also the option to learn how to skydive solo on the A.F.F. (Accelerated Free Fall) course during a weekend, if the weather conditions are good.
Info: paracadutismolucca.it
Cruising over the Silver Coast
Had enough of the beach? It's all blue as you tandem jump along the southern Tuscan coastline, above Monte Argentario, Orbetello and its lagoon. Be prepared for the unforgettable as your instructor straps you into a sling before leaping together at 4,200 metres and plummeting (although it feels like floating) through the air at 200 km/h. On landing near Orbetello, you'll want to do it all over again, especially when looking at the photos of your adventure. Become a skydiver in your own right by participating in the A.F.F. (Accelerated Free Fall) course, consisting of theory, practice on the ground and video recording of the jumps.
Info: skydivecostadargento.com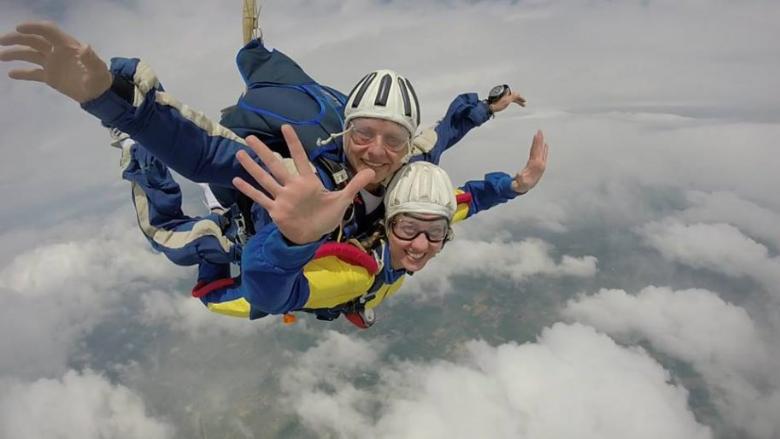 Enjoy the flight over Arezzo, famous for frescoes by Piero della Francesca, before jumping out of a plane at 4,000 metres strapped to a trusted instructor. It's a pure adrenaline rush for the first 60 seconds before the canopy opens and you start spiralling back down to earth with the softest of landings. Paracadutismo Etruria Arezzo is an amateur sports club, whose experienced parachutists provide tandem experiences at weekends.
Info: paracadutismoarezzo.it
You might also be interested in