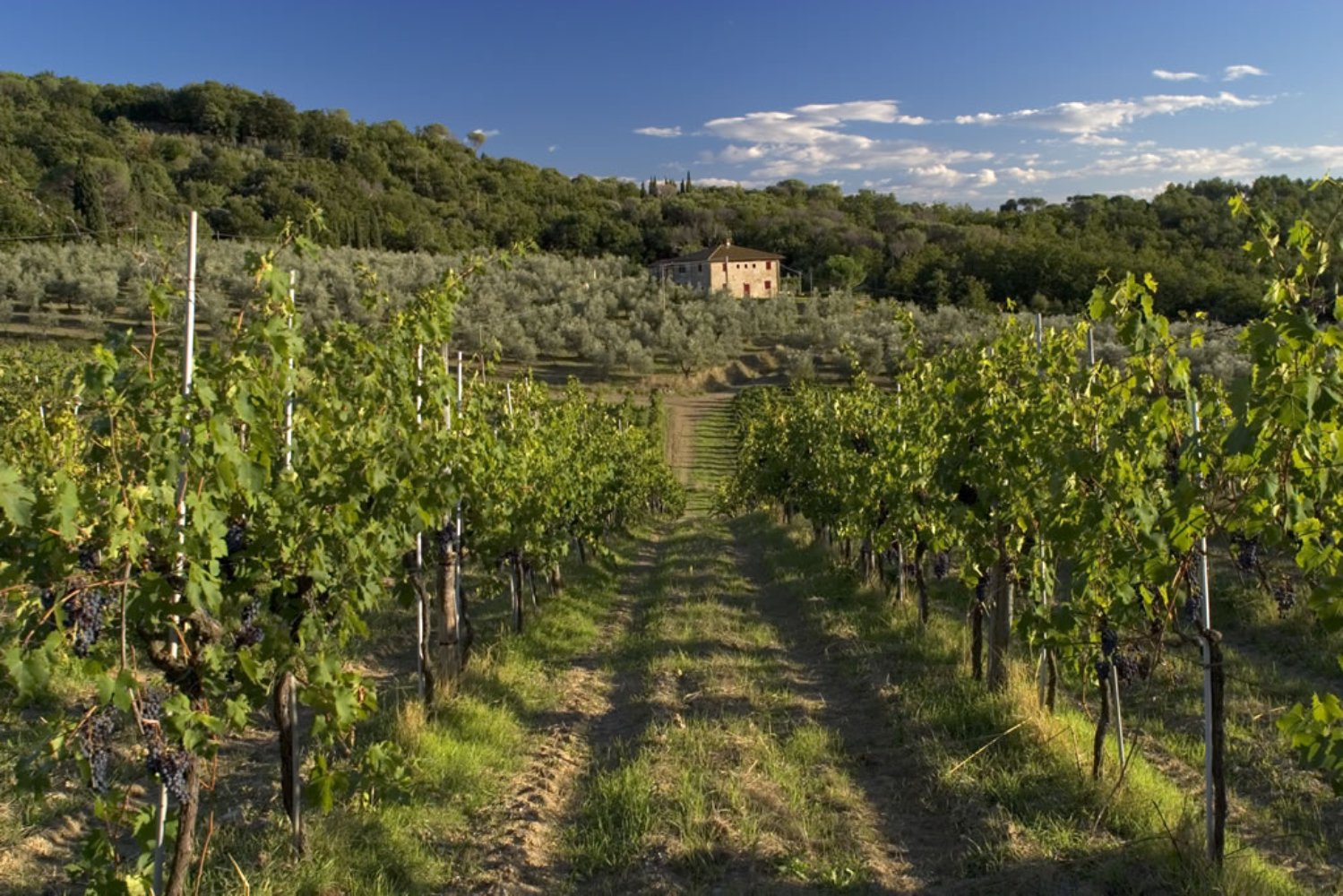 Siena area, a 2 day food and wine tour
From Chianti to the Val d'Orcia
Siena boasts 128 trattorie, osterie and taverne that are members of the Vetrina Toscana a Tavola. From Montalcino to San Gimignano, Pienza to San Quirico d'Orcia these eateries offer gastronomic oases for discovering the true flavours of Tuscany.
Local classics include: pici with a wild boar ragù, cacio pepe, and veal stew with Chianti, almonds and pine nuts, Etruscan-cooked veal with green beans, steak with aged Pienza pecorino, pasta filled with fresh ricotta and spinach and capriolo alla cacciatora. A meal in this area isn't complete without a bottle of the excellent Nobile di Montepulciano wine.

Below is a 2 day suggested tour to discover the delights of the food and drink in the Siena area:
1STDAY:
Discover some of the beauties of the Chianti Classico area leaving from the Firenze-Palio road (Poggibonsi exit).From there, you'll reach State Highway 222 at Castellana in Chianti. The castlesof the Sienese Chianti area are among the most photographed buildings in the world. These medieval gems once dominated the entire region. While in the area, make sure to stop in Radda in Chianti and continue on toward Gaiole in Chianti. From there, go south to explore one of the most renowned wine-making regions in the world.
In Castelnuovo Berardenga, stop for a bite to eat and sample typical Tuscan specialties like 'Tonno del Chianti' (boiled pork that's preserved in oil like tuna), 'ribollita' soup, pecorino cheesesand various cold-cuts.
Those looking for a bit of culture, should stop in Quercegrossato admire fascinating sculptures, like the 'Deposition of Christ', a polychrome work in terracotta by Francesco di Giorgio. Dated 1486-88, this work is considered one of the highlights of Sienese sculpture from that period.
From the Castelnuovo Berardenga area, go south toward the Val di Chiana, where the Renaissance left traces that the visitor can still appreciate today. Sample the area's tasty Chianina beef or try its wonderful wine, particularly Vino Nobile di Montepulciano, made in another highly acclaimed town that hosts works by Michelozzo, Andrea della Robbiaand Luca Signorelli.

2NDDAY:
Once in the Val d'Orcia, make sure to visit Castelluccio della Foce — a magical valley spot known for hosting a famedmusic festival. From there, you'll be able to admire the majestic Monte Amiata that was once a impetuous volcano whose past eruptions deeply influenced the territory's development.
In this region, you will have a chance to discover one of the most famous wines in the world: Brunello di Montalcino. Created last century thanks to the genius of Ferruccio Biondi Santi, this wine is currently internationally. Here, wine-making is profoundly linked to the area's identity; it is an art whose traditions must be upheld and respected. Brunello can only be launched on the market after a refining process that lasts no less than 5 years.
In Montalcino, you'll want to discover the town's myriad artistic treasures like works by Matteo di Giovanni, Il Vecchietta and the Della Robbia clan. After viewing multiple masterpieces, relax with a good glass of Brunello and a plate of hand-made pici, a luscious pasta dish you're sure to enjoy.
You might also be interested in