Discover how Morellino di Scansano is made
Morellino harvest in the Maremma
In Southern Tuscany, close to the sea, Sangiovese grapes are used to make Morellino di Scansano wine, a very young Tuscan DOCG. Morellino di Scansano is produced in the hills around Grosseto and contains at least 85% Sangiovese grapes (locally the grape is called Morellino: the same name used to call local horses). Morellino is a ruby red coloured wine with an intense smell and a warm, rather tannic flavor. Reserve status is given to wines that have aged for two years, one year of which must have been in wooden barrels.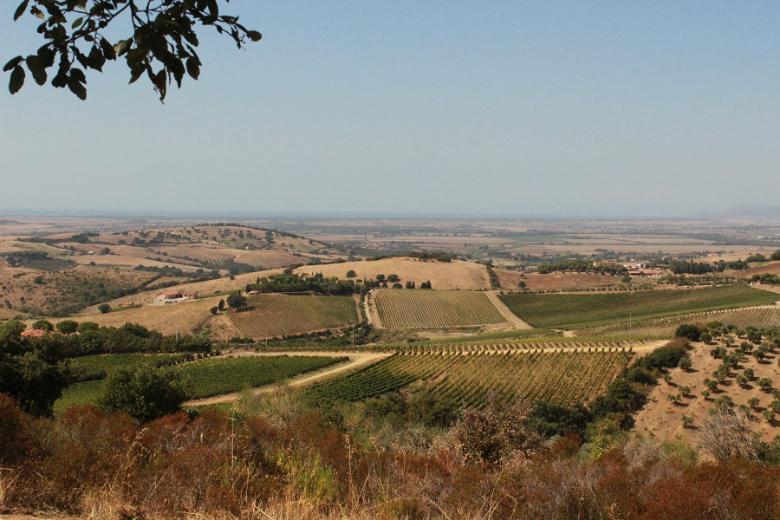 The Maremma region hosts historical family farms which produce excellent Morellino di Scansano thanks to their great attention to detail. We visited one of them to learn more about the harvest and the wine making process.
At the Val delle Rose estate, for example, there are vineyards dedicated exclusively to Morellino di Scansano Riserva production. The harvest is done from the beginning of September until the first half of October, but for the Morellino riserva only the smaller and mature bunches are picked.
After harvesting, grapes go through a reception tank into a stemmer, which removes the grapes from the rachis (the stem that holds the grapes).
Then grapes are carried into large tanks, where they will be crushed mechanically two to three times a day for several months, leaving the skins in contact with the juice throughout the fermentation.
High-quality technology is used for both for the harvest and the wine-making. Only French oak barrels can contain the wine, which remains dormant in majestic "cantine".
But Morellino is more than wine, it's the dry land and the cool breeze, the vineyards and the sea beyond, the sun that warms the soul, the sea salt and the hard work of the passionate wine producers of the Maremma.
You might also be interested in