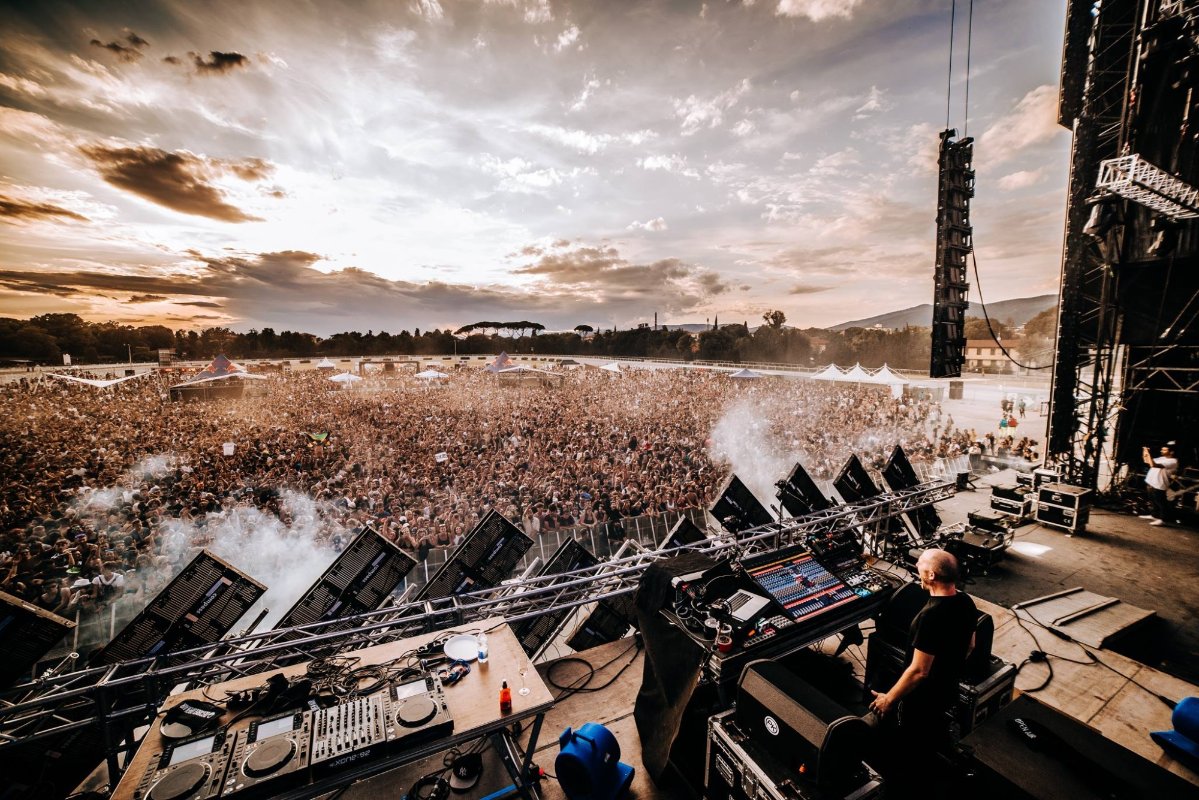 music_noteMusic
Decibel Open Air
Catch the stars of electronic music at the Visarno Arena on Saturday, June 22 and Sunday, June 23
Get ready for the fifth edition of Decibel Open Air. The highest-attended electronic music festival in central Italy, drawing in an audience of nearly 20,000 people from all over the world last year, this year the program features more than 20 artists on 2 stages for more than 24 hours of music at the Visarno Arena in Florence from Saturday, June 22 to Sunday, June 23. The star-studded line-up includes Armin Van Buuren, Infected Mushroom, Black Coffee, Collabs 3000 (Chris Liebing & Speedy J), Deborah De Luca, Felix Kröcher, Fisher, Ilario Alicante, Joseph Capriati, Loco Dice, Marco Faraone, The Martinez Brothers, Matrixxman, Riva Starr, Rodhad, Stephan Bodzin Live and many more.
Kicking off the line-up is Armin Van Buuren, probably one of the most influential artists on the world electronic dance music scene. After stellar success on tours "Armin Only" and "A State of Trance," Armin has performed for the King and Queen of the Netherlands (who even joined him on stage to dance) and is one of the first DJ's to host his own festival, the ASOT Festival, today the biggest trance music festival in history.
Infected Mushroom, Israeli music duo Amit Duvdevani and Erez Aizen, is a household name on the electronic music scene, with a 20+ year career behind them. They made it big in 2004 with the commercial and critical hit, "I'm The Supervisor," and revolutionised the world psychedelic trance music scene. Another hot act, South African DJ, Black Coffee, despite losing his arm at 14 during Mandela liberation celebrations, is loved by the world for his work on the international house music scene.
Collabs 3000, brings together Chris Liebin and Speedy J for an electronic jam session. Deborah De Luca, waitress, ballerina, fashion student and DJ, formed her own record label, Sola_mente Records, in 2013, hitting it big a few years later.
Garnering fame as an Australian surfer in his youth, Fisher returned to DJing in his teenage years, releasing his first album, "Ya Kidding," in 2017 followed by EPs "Oi Oi Oi Oi" in 2017 and "Crowd Control" in 2018, finally making it big with the hit single, "Losing It," which was nominated for Best Dance Release at the ARIA Music Awards and Best Dance Recording at the Grammy Awards.
Local talent featured at this year's festival include Livorno-born Ilario Alicante, today one of the top artists on the electronic music scene, started his career in Tuscany, debuted at Time Warp at only 15, and in 2008 released the hit "Vacaciones en Chile," after which he joined Cocoon (Sven Väth) and in 2018 won Best Techno Artist at the DJ awards in Ibiza. Joseph Capriati, born and raised in Caserta, made his official debut in 2007 with "Microbiotic", last year performed at Golden Gate in Naples and joined the label, Chris Liebing CLR and Drumcode in 2009.
Electronic music legend, Loco Dice, started out in hip-hop working with the likes of Snoop Dog, changed track in the mid-90's to experiment with house music and found worldwide success in 2006 with "Harissa Ep" and the single "Seeing Through Shadows". Promising Italian artist Marco Faraone captivates audiences with his style, charisma and passion for music, approaching and interacting with music in a unique way.
The Martinez Brothers, brother duo and global house music icons from the Bronx have played at some of the most prominent clubs in the Big Apple, including historic New York club The Paradise Garage. Matrixxman, American DJ and producer marked the turn in American techno music in recent years, and now dominates the European club scene. Rødhåd started out playing at small open-air parties on the outskirts of Berlin for fun in the 90's, and has since developed a music style that combines dub-techno, dominant percussion and flawless mixing.
Closing the Decibel Open Air line-up are Felix Kröcher, one of the most talented German techno artists, Riva Starr, part-Neapolitan star of club music, Stephan Bodzin, who dabbles across music styles producing a captivating vibe, Anotr, an undeniably talented music duo from Amsterdam, Bastian Bux, member of the ElRow family, George Privatti, tech-house artist with a history working with more than 100 labels, Tini Gessler, young Spanish breakout artist in electronic music and Stomp Boxx, Venetian artist and nominated best DJ and producer at Jagermusic Lab in Berlin.
When
From 22 June 2019 to 23 June 2019