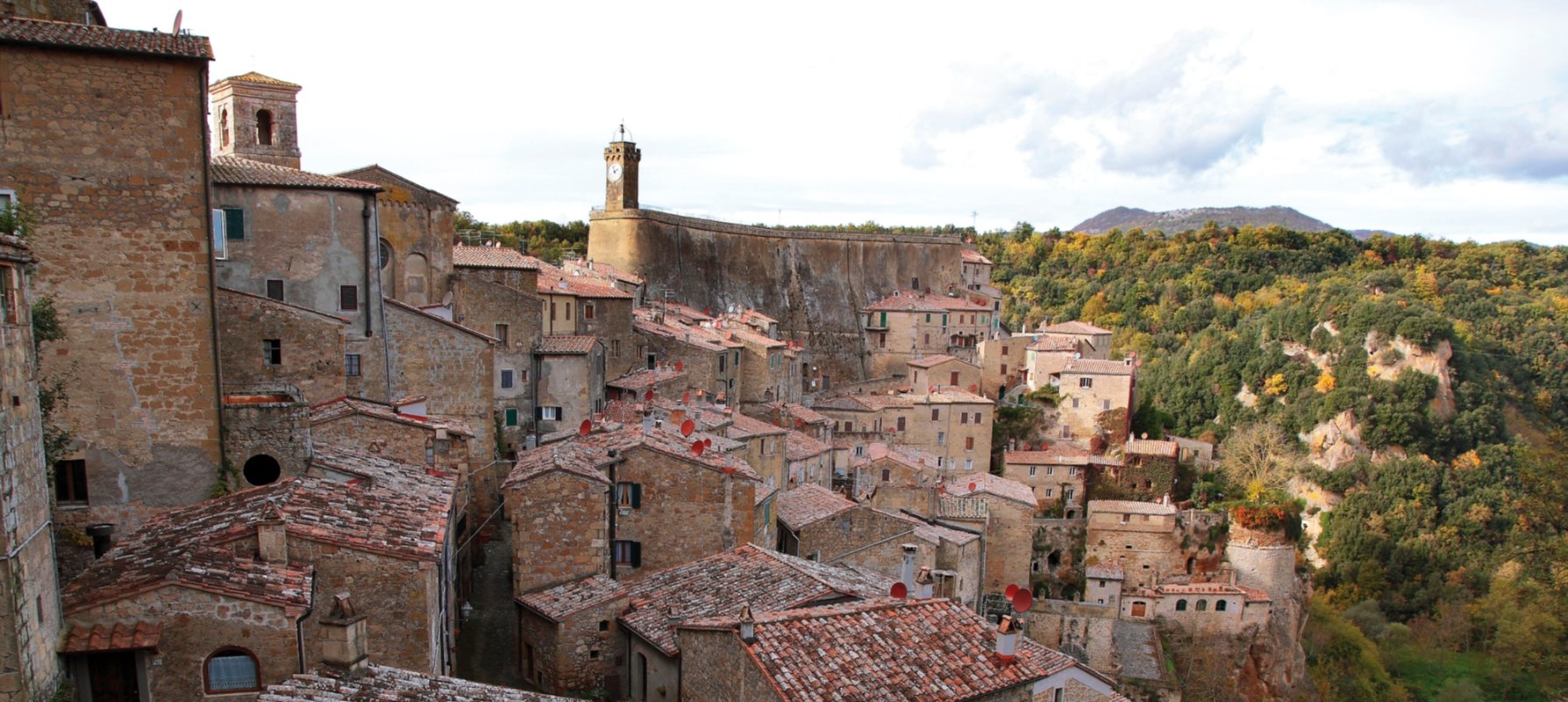 Sorano
A living time capsule of the best of Etruscan civilization
Read the story of Sorano on

Sorano
The country and its territory: an open-air museum
A unique and fairly unknown territory defined by tradition, culture, good food and great wine. Once you arrive, you'll never want to leave...Read the story
Sorano, a town that flourished in the most prosperous period of the Etruscan age, is a living summary of the good things about ancient Etruscan civilization. Founded on a fortress that the centuries have worn down into more of a natural cliff, and refined by Renaissance architecture, the town is surrounded by imposing walls that made it one of the most secure defensive layers of the Countship of Pitigliano. Sorano belonged to the Aldobrandeschi nobles, who allowed it to evolve as a defensive village, fortifying it with bastions. Even today, one of these still protects the oldest hamlet. Due to its rugged appearance, its clumps of cliffs and houses, and its hidden, picturesque streets, Sorano has been called the "Matera of Tuscany."
All throughout the town are vineyards alternating with Mediterranean shrubbery, olive groves, wheat fields and sheep pastures. This agricultural vocation has helped the area establish itself as a hub for high quality traditional Maremman products, including a notable dairy sector. The whole territory is rich in medieval fortifications such as the Castello di Montorio, the Rocca di Castell'Ottieri and the Castello di Montebuono.
Unforgettably unique in its ilk is the archaeological park of Città del Tufo, home to the majority of the area's historical, archaeological and cultural treasures. In addition to the Church of San Sebastiano and the Rocca Aldobrandesca, here you can admire the necropolises excavated by Etruscans and today set in a highly evocative, nature-heavy setting. Don't skip out on a stroll through the Vie Cave, a series of fascinating passages dug out of the nude stone in the territory between Sovana, Pitigliano and Sorano. As for the magnificent ancient tombs to check out, a highlight is the monumental one of Ildebranda, a masterpiece among the sepulchers depicting the transition from archaic Etruria to the next stage, surrendering to Rome and its Empire. Protected and enveloped by substantial vegetation that heightens the area's charm and mystery, there are also cave tombs. The best known among them is the Tomba della Sirena (Siren's Tomb), discovered in the area surrounding the "lost city" of Vitozza. The caves that hold these tombs are nearly ruins compared to the others, but they're no less fascinating. At one time, they were probably used for rearing pigeons or as incinerators, while later, in the Roman and medieval age, they were adapted into homes, stables or wine cellars.
&
TOP ATTRACTIONS IN Sorano
Social & Web
Find out what they say about us, and tell us about your Tuscany!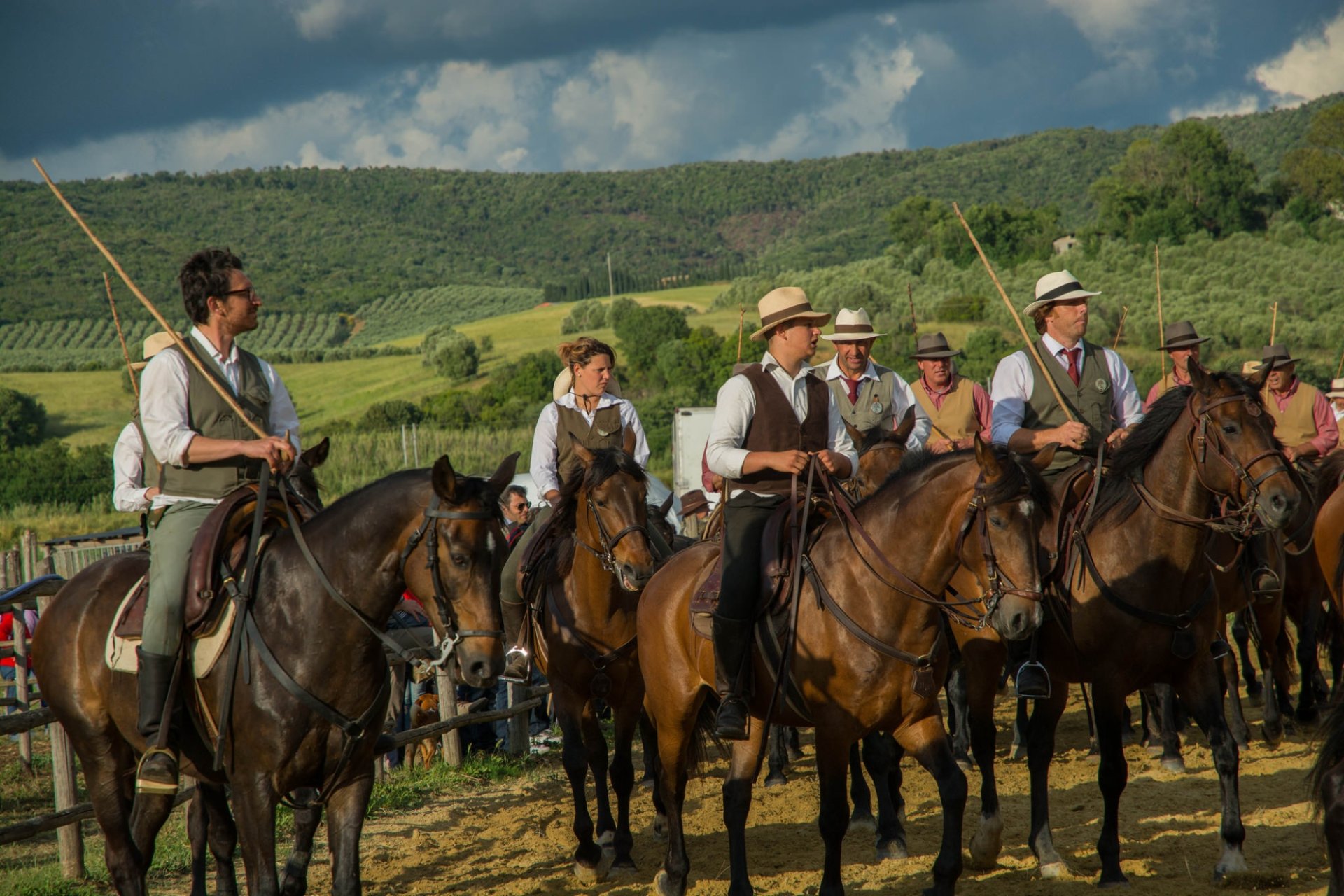 Crystal-clear sea, unspoilt countryside, hot springs and the charm of Etruscan villages
Southern Maremma is a wild land, where the most unspoilt nature reigns supreme, made up of Mediterranean scrub that inebriates with its various aromas, from the hilltops to the sea. ...
Morekeyboard_backspace