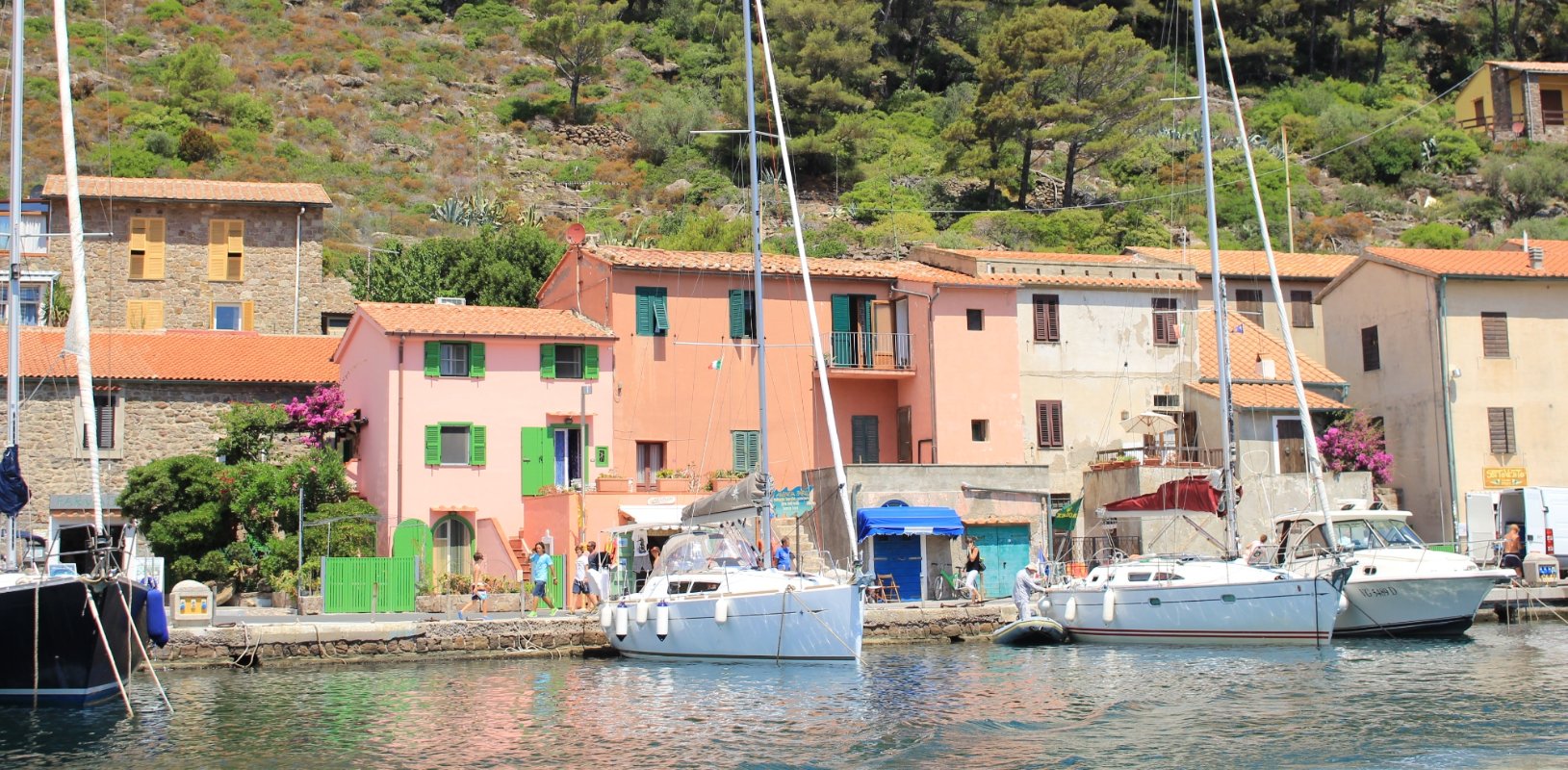 Capraia Island
Mediterranean scrub, crystal clear sea and ancient paths make for a vacation marked by nature
Read the story of Capraia Island on

Capraia Island
Capraia in a poem
A tribute to a rock amid the ocean ~ by Silvano PanichiRead the story
Going to Capraia means venturing into an uncontaminated and wild place, a true corner of paradise where time stops in its tracks. The island of Capraia, part of the Arcipelago Toscano National Park since 1996, is the ideal destination for a romantic getaway or for sea lovers: explore your passions through a myriad of activities, like diving, snorkelling, boat excursions and sunbathing in delightful coves and enchanting beaches dotted along the coast.
Around 1000 BC, the Greeks named the island Aegylon, which means "land of goats," though the current name Capraia, deriving from the Latin Capraria, does not, as one might think, allude to sheep, but from the Etruscan word capra, "rock". Though the similarity might indicate otherwise, the etymology of the name is a reference to another important characteristic of the island, its volcanic origins, its rugged and rocky makeup.
Once covered by a dense forest, today the igneous terrain has shrub-like vegetation, typical of the Mediterranean scrub. The distinct smell of myrtle wafts through the scrub and it is easy to be lured by the colourful strawberry shrubs. The vegetation is made up for the most part by pines, holly oaks, wild oleander and some cork trees.
From 800 to the mid-10th century, the island was the target of many incursions by Saracen pirates. The two Republics of Genoa and Pisa, both seeking to affirm their dominance over the archipelago, joined forces to fight the threat of pirates. Later, after a long dispute between Genoa and Pisa, Capraia came under Genoese rule following the Battle of Meloria. Raided many times, evidence of these assaults can be seen in the island's fortifications, which were carried out when it was ruled by Genoa, like the Fortress of San Giorgio and the Torretta del Bagno. The strada di San Leonardo, or San Leonardo Road, of Roman origin, was used during those times as a secret path to connect the port with the town, evading pirate raids – today, it is perfect for an invigorating stroll, immersed in the fragrance of the Mediterranean scrub as you enjoy the stunning view.
&
TOP ATTRACTIONS IN Capraia Island
Social & Web
Find out what they say about us, and tell us about your Tuscany!