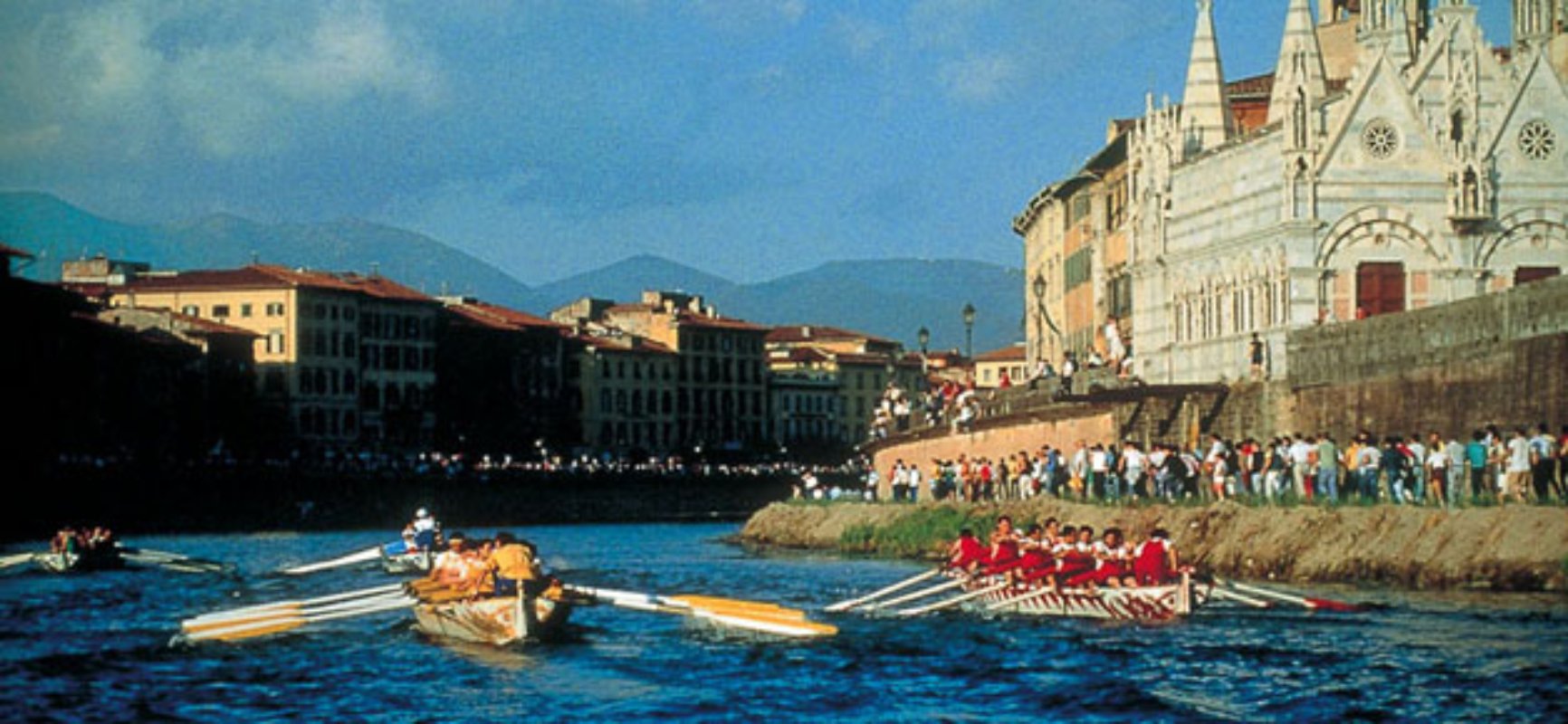 person_pin_circleVisit
The San Ranieri Palio regata in Pisa
Remembering the Maritime Republic of Pisa on June 17
The city of Pisa celebrates its patron saint's day, San Ranieri, on 17th June. To mark this event every year on the evening of the 17th, the city's four historic districts race each other in a regata on the river Arno. This tradition dates back to when Pisa was a Maritime Republic.

The San Ranieri Palio race can trace its origins to Medieval times when similar competitions took place in Pisa to celebrate the Feast of the Assumption. The regata tradition stopped when Pisa was conquered by Florence and didn't begin again until 1635. Since 1718, the regata has been used as part of the city's patron saint celebrations and not for the Feast of the Assumption.
During the San Raniero Palio race
, each boat has
eight rowers
, a helmsman and one crew member known as a
'montatore'
. The boats must race 1500m upstream from the Ferrovia Bridge to Palazzo Mediceo until they reach a boat ancored in the river on the finish line. The 'montatore' then must climb up the 10m high mast and grab the '
paliotto
'. The 'paliotto' is blue to represent victory. There are also two more 'paliotto', coloured white and red to represent second and third place respectively. The crew who come last are made fun of by being awarded two ducks as a prize.
The end of the San Ranieri Palio regata represents the battle of Lepanto, when the fleet of Santo Stefano Knights boarded the Turkish flagship and took the 'flame' of battle, which is on show today in the Knights' Church in Pisa.
The boats which take part in the San Ranieri Palio have distinctive colours to represent the four historic districts of the city. The San Martino district is white and red; Sant'Antonio is white and green; Santa Maria is white and blue and San Francesco is white and yellow. Each boat is around 11m long, 2.2m wide and made of fiberglass, making them much lighter and faster in the water than wooden vessels.
Pisa
Experience the city of miracles, packed with maritime history and traditions
Pisa and its Piazza dei Miracoli have always been a fundamental stop on any trip to Tuscany. Despite the overwhelming presence of tourists from all over the world, who sometimes seem to have arrived here for the sole purpose of pretending to hold up the Leaning Tower – this sacred place still emits a timeless, evocative and powerful beauty. ...
Morekeyboard_backspace
You might also be interested in