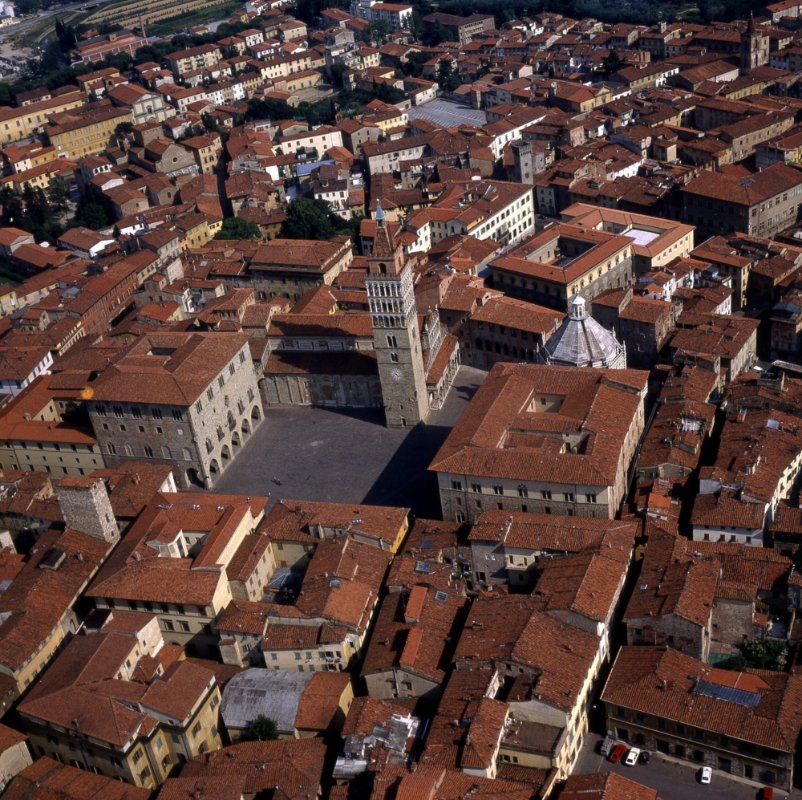 account_balanceMuseums
Studio-home of Fernardo Melani
Fernando Melani: his life, works and studio-home near Pistoia
Fernando Melani (1907 – 1985) was born and worked in Pistoia. He came from an upper-middle class background but in the period that followed the Second World War he abandoned his origins and adopted a Communist ideology that was more in line with his cultural view of economics and what he saw as a general state of materialism. As a demonstration of his beliefs he always wore blue overalls which echoed the classic Maoist uniform and were a kind of declaration of his adhering to an all-encompassing form of art – in the style of Beuys. Nobody is further from Melani than the exasperated expression and intense inward focus than Beuys, even if, as stated by Lara Vinca Masini, what both artists have in common is their use of art as something they want to do, rather than as a form of representation. It's all too easy however to suggest that Melani rejected art as representation, whereas it's immediately clear that he wanted to create a sense of harmony with physical 'reality'.

As he said himself, 'I'd like to distance myself as much as possible from what I'm creating; to allow the 'vibrations', which are present in whatever material is being used, rise up and reform themselves as art in the way that best suits their structure… avoiding tedious false reconstruction of man's image.' In the art world Melani in something of a controversial and mysterious figure. However, an interesting exhibition at Palazzo Fabroni in 1990 and a critical investigation by Bruno Corà helped set out the historical context that Melani was working in and cleared up much confusion concerning his intentional see-sawing between art and science. Melani's work contains a good deal of interaction between ideas and behaviour in creating art.Melani had a way of seeming to meld himself into the artistic materials he used, thus leading to a total lack of high handedness on the part of the artist which can be felt in his work.

Melani's work is now on display in his studio-home, the ideal place to exhibit the man's work. This exhibition was made possible by the Pistoia local government who bought Melani's home in 1987 and who decided to leave it just as it was when the artist himself lived there. A great deal of renovation work was carried out in order to create the space needed to have the public move comfortably through the house and admire Melani's works of art. The restructuring work was carried out by the architect Alessandro Andreini. Melani's studio-home, which was originally a loft, provides visitors with a totally original way of admiring the artist's work. It's also difficult to compare it to other artists' studios and it doesn't seem like a home either. The works of art are displayed in a natural, relaxed way around the studio and are not placed in a deliberately. Visiting this studio-home is like entering into Melani's mind and really experiencing his train of thought. This truly thorough viewing of the artists works which reveals so much about Melani is in line with the ethos of this studio-home exhibition which aims to allow visitors to fully experience who Melani was and what he did.

Melani started working in the 1950s. A good example of how he worked is that he used fruit crates to stand his work on and even sometimes painted them. This shows how he used everyday objects as part of his art. In fact, Melani often used economic and everyday items in his art and this reflected the austerity of the post-war years, right up to his use of soldered sheet metal in the 1960s. The various qualities of different metals were experimented with by Melani during the 1960s, according to 'naturalist' principals that respected the innate structure of the metal itself.'Lead Sheeting' (the work which most represents Melani's sense of naturalism) and the 'Progetto di Letteratura Globale' are part of the permanent exhibition at Palazzo Fabroni. The 'Progetto di Letteratura Globale' is the work most full of the senses implicit in the artist's work and helps us understand how Melani wanted his work to be 'read'.

Fernando Melani, with the well thought out theory behind his work, nonetheless left many question marks over his life and work. His home-studio, works and exhibitions held in his lifetime are all we have left to understand him by. For example, his 'Personale' exhibition was held at Galleria Numero in Florence in 1954 and again in Milan at the Numero gallery there in 1967 (presented by Carla Lonzi). Other Personale exhibitions were held such as the 1976 presentation of his 'Progetto di Letteratura Globale'. Other exhibitions were held in 1979, 1985, 1990, 1991 (in New York), 1997 and more recently in 2002 at Palazzo Strozzi in Florence and Palazzo Fabroni in Pistoia.
Pistoia
History, nature and food in the shade of the Apennines
A captivating Roman city, Pistoia is a place that wows art lovers and tourists in search of centuries-old traditions. Poets and writers have always praised its charms, calling it the "city of enchanted stone" and the "city of wide streets and beautiful churches". ...
Morekeyboard_backspace
You might also be interested in