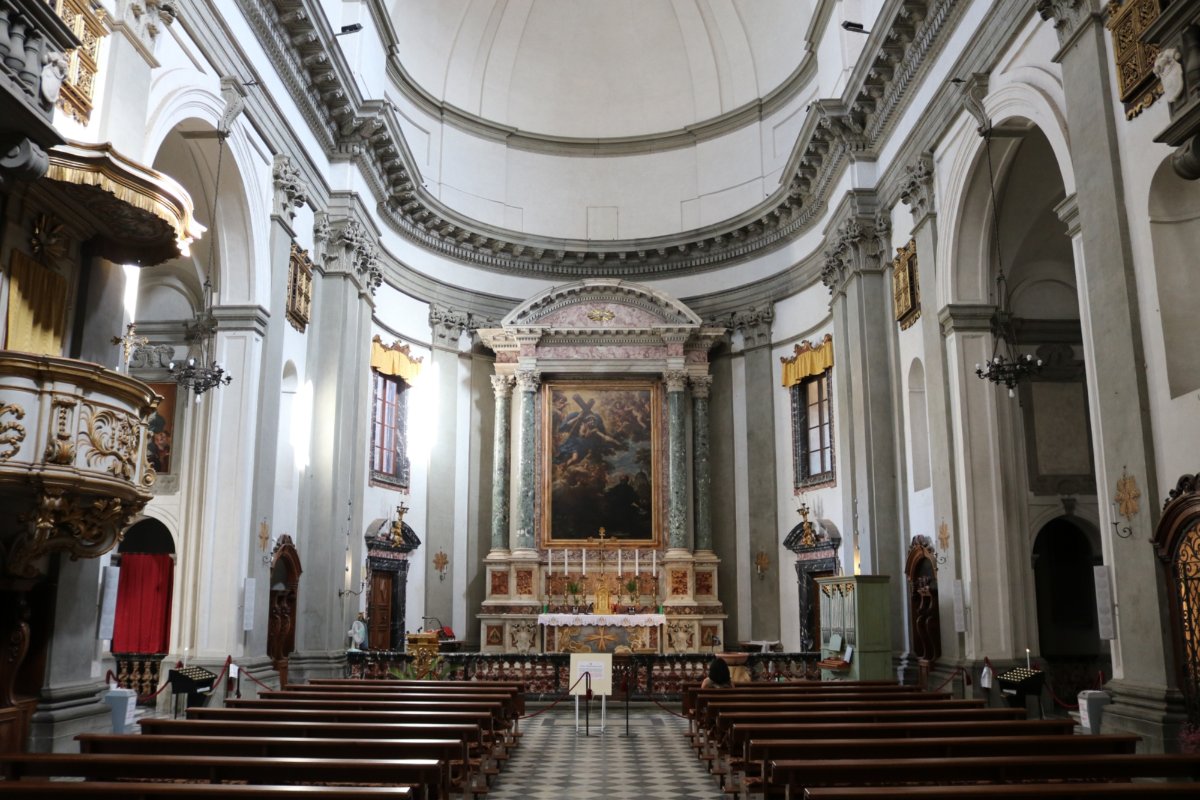 Places of worship
Spirito Santo Church, Pistoia
Discover the place of worship on which Gian Lorenzo Bernini worked
L
The church and monastery of Spirito Santo in Pistoia was built in 1647 according to the wishes of the Rospigliosi family and based on plans by the Jesuit architect Tommaso Ramignani. The impressive façade in rough stone rows and sumptuous furnishings made this one of the most beautiful and popular churches in the Tuscan town. The building and the adjacent college, located in front of Palazzo Rospigliosi, accommodated the Jesuit community that settled in Pistoia in 1635.

Giulio Rospigliosi, who became Pope Clement IX, was behind myriad interventions to embellish the interiors, calling on leading Tuscan artists of the time. In 1688, Gian Lorenzo Bernini was commissioned to design the main altar, above which Pietro da Cortona's large canvas Christ Appears to Saint Ignatius was positioned. Another painting of significant value is Ludovico Gimignani's Madonna and Christ in Glory with Saint Liborius, Saint Dominic, Saint Lucy and other Saints in the princely Rospigliosi family chapel.

With the suppression of the Jesuit order in 1783, the church survived as a priory until the 1960s, when seismic activity destabilized the buildings and the advice was to close the site. In the 1980s, Spirito Santo was reopened following extensive restructuring work. Tourists and residents, in addition to rediscovering the valuable masterpieces by Baroque artists, had the opportunity to admire the wonderful Hermans organ of 1664 on the left wall.

The Jesuit Guglielmo Hermans was born in 1601 in Thorn, near Maastricht, in Dutch Limburg. After having learnt the art of organ-making in Flanders and in France, where he repaired, enlarged and made many organs from scratch in the peninsula's churches and convents, Hermans successfully blended the complementary sounds of the Nordic organ with the classic Italian organ. The instrument in the Spirito Santo church is framed by a large inlaid wooden box decorated with gold leaves. The organ is particular because of its extraordinary timbres and the extreme care with which it was constructed, which the city's organ builders used as a model in the centuries to come.
Pistoia
History, nature and food in the shade of the Apennines
A captivating Roman city, Pistoia is a place that wows art lovers and tourists in search of centuries-old traditions. Poets and writers have always praised its charms, calling it the "city of enchanted stone" and the "city of wide streets and beautiful churches". ...
Morekeyboard_backspace
You might also be interested in