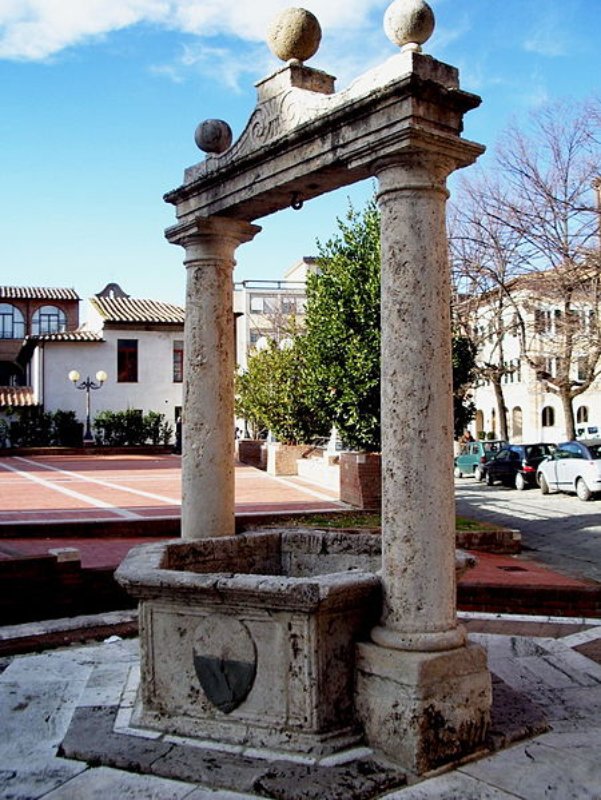 Hamlets, districts and squares
Pozzo dello Spedale, the Hospital Well
A reservoir to supply the hospital with water
The work was realised in 1465 by the Hospital of Grosseto which depended at the time on that of Santa Maria della Scala of Siena. The reservoir took the name of the Hospital institution that commissioned the work, built to furnish the hospital itself and the houses situated on the northern side of the historical part of town with a water supply. In fact the town of Grosseto had always suffered from the lack of water due to the scarce and irregular rainfall and absence of natural springs in the surrounding areas. Following the improvement of the town water supply system between the eighteenth and nineteenth centuries, the work of the reservoir lost its original functions and gradually went into a decline.

A series of interventions carried out during the last century restored the monumental well to its old splendour. The 'Pozzo dello Spedale' is a structure built in travertine with a hexagonal podium that delineates the aperture for the collection of water, underneath which there is the corresponding cistern that is no longer in use. The coats of arms of the 'Spedale di Santa Maria della Scala' and of the city of Siena are visible. The well or reservoir is lined laterally with two columns resting on podiums that support the remarkable architraved structure, at the top of which are two lateral spherical pinnacles and a larger one in the centre.
Grosseto
Strolling through the Maremma's main city
Grosseto is a beautiful city nearly on the edge of the Tuscan region. It is known as the political and cultural center of the Maremma – Tuscany's wilder, coastal territory, often overlooked by tourists. It's an ideal base for exploring the surrounding hilltops and sea sections, and has a family-friendly tranquility, as well as unexpected surprises. ...
Morekeyboard_backspace
You might also be interested in