Hamlets, districts and squares
Piazza della Cisterna
Between towers and legends, in the heart of the UNESCO World Heritage Site
Triangular in shape, the piazza is next to the important piazza Duomo and was created in the thirteenth century following the gentle incline of the land. It was originally a crossroads between the via Francigena and via Pisa-Siena, and it was a marketplace, where the town's festivities and tournaments took place. It is named after a public cistern, built in 1287, which stands on top of huge travertine well with an octagonal pedestal. You can still see the grooves left by the ropes used to haul up the pitchers of water.

On the southwest side of the piazza opens up the Arco dei Becci, an archway that was part of the original walls dating to the tenth century. In front of the cistern stands Casa Silvestrini, once home to the Spedale, which provided pilgrims with accommodation on their travels along the Via Francigena; in the sixteenth century, it provided assistance to orphans. Since 1918 it has been a hotel.

Here you find interesting architecture such as Palazzo Razzi, now a bank, with its right-hand facade in brickwork and two double lancet windows, while the left-hand facade is covered in stone cladding with two single lancet windows. Next to a typical thirteenth-century tower that belonged to the captain of the people stands Palazzo Tortoli-Treccani, with a double line of double lancet, acute arched windows, embellished with isolated marble columns.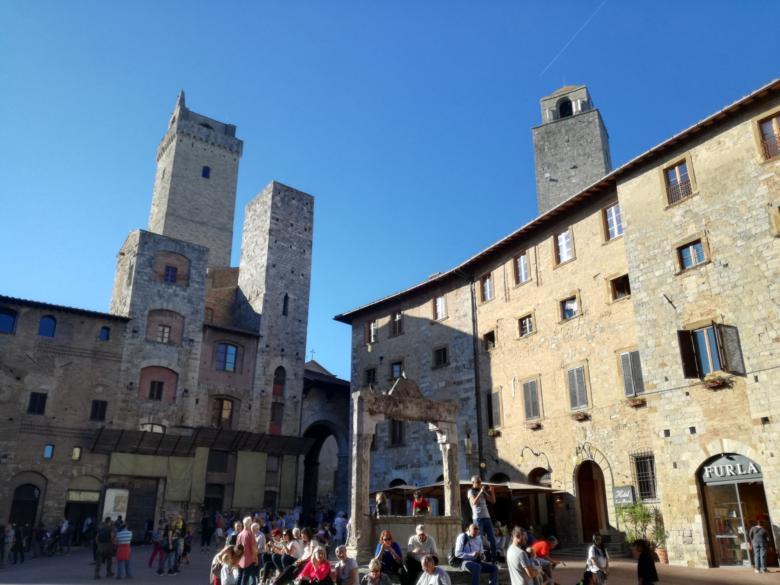 Various other towers stand tall on the square. One of these is the Torre del Diavolo (Devil's Tower), which stands on the northern side, next to Palazzo dei Cortesi. Legend has it that this tower was erected by the Devil himself. It stands out with a portal of double height and, at the bottom, the Golden Alley once began, where gold leaves were worked to make paintings.
The towers of the Ardinghelli family, the most powerful family of San Gimignano, also stand in this piazza. They were built in the late thirteenth century and were much higher than the limit set in a 1255 decree.
Music events and fairs are often held in the piazza: the Santa Fina festival is held in March and August. The Fiera di San Gimignano is held here in early January.
San Gimignano
THE MANHATTAN OF THE MIDDLE AGES, FROM ART TO GOOD WINES
With it multitude of towers sticking out against the horizon, San Gimignano is one of the most iconic and recognizable destinations in Tuscany. In every corner of the world, there lives someone with a dream to visit this ancient village and to feel the experience of stepping into a perfect Medieval postcard. ...
Morekeyboard_backspace
You might also be interested in