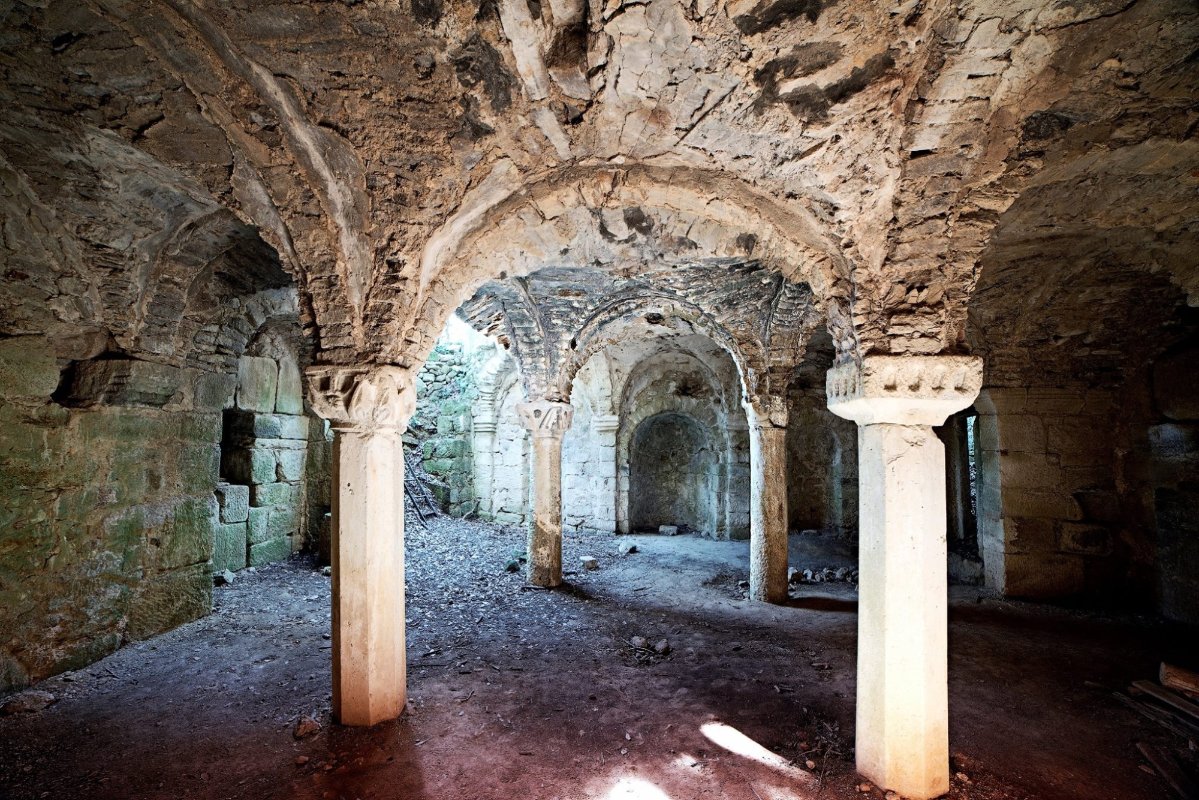 Places of worship
Monastery of San Salvatore in Giugnano
The ruins of this ecclesiastical building atop a trachyte outcrop
The ruins of the Monastery of Giugnano are located in the valley of the Bai stream, midway between the villages of Roccastrada and Montemassi, and above a rocky outcrop of trachyte.
The first mention of a monastery existing in Giugnano was made in a map dated 1076. The area is of great importance for the Aldobrandeschi family in the Maremma, for whom the abbey formed part of their patrimony. Its remarkable foundation was recorded by the papal seal with which, in 1140, Pope Innocent II confirmed to S. Salvatore of Giugnano the territories of Roccastrada, Grosseto and Ardenghesca, where there is also another important Benedictine monastery, S. Lorenzo, near Civitella Marittima.
A certificate of Emperor Ottone IV reveals that in 1209, Pope Innocent III placed the Maremma monastery in the employ of the Cistercian Abbey of S. Galgano in the Val di Merse. It was the site of important metallurgical activity, fed by the silver-copper deposits present in the area. This was of great interest to Siena, and the transfer of the Aldobrandeschi rights over to the castle of Roccastrada resulted in Siena claiming for itself every mining right in the territory.
After 1257, S. Salvatore passed from the Cistercians to the Augustinian hermits, who still owned it in the early 1300s. During this century,any mention of the abbey began to be lost completely, so much so that in the Statutes of Roccastrada from 1612 only the presence of a mill and an ironworks in the town of Giugnano is remembered.
Roccastrada
Medieval villages in Grosseto plain
The picturesque Roccastrada was founded atop a unique mass of trachyte, offering a wide view of the Grosseto plain. A former fief under the Aldobrandeschi family until the early 1300s, the village passed into the hands of the Sienese and later the Medici. The territory around the town – partly covered by forests of oak and chestnut trees – is primarily home to vineyards and olive groves. ...
Morekeyboard_backspace
You might also be interested in