Places of worship
Church of San Leone
From 14th-century oratory to 17th-century enlargements and decoration, from Baroque to Neoclassicism
The Church of San Leone in Pistoia, situated in the homonymus square, is one of the most important and unknown examples of baroque art, for which reason is also called "Cappella Sistina Pistoiese" because of its magnificent frescos.
The origins of the building go back to 1379 when it was seat of an oratory by the congregation of secular devotees from Pistoia's Spirito Santo. The oratory first occupied the space of the present-day nave, then the congregation's prestige and economic fortunes grew over the centuries to the point that, in the eighteenth century, the property was enlarged with the purchase of adjacent lands. Following this annexation, in the 1700s the confrères decided to enlarge the church's structure and decorate it again in order to make it richer and closer to the baroque style distintictive of that time. Firstly the work was entrusted to the Pistoian architect Raffaello Ulivi, and afterward, between 1753 and 1764, Vincenzo Meucci, the undisputed and very successful protagonist of 18th-century Florentine painting, worked there, alongside Giuseppe Del Moro.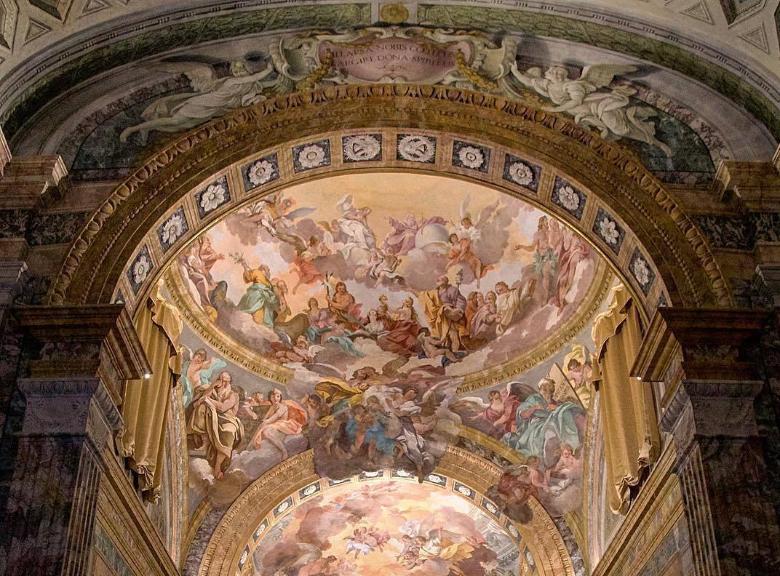 In 1764 the decorations were completed by an artist from Bologna, Mauro Tesi, which marked the transition from Baroque to neo-classical. Many years later, in the 1930s started a decline after changes in the urban architetcture and the destruction of the district in order to construct the post office. Marginalized since that moment, the church has been neglected, serving as a storage location despite its historical and artistic value.
The effectual memorandum of agreement between the diocese, the cathedral, and the superintendency led to the opening of the restoration worksite which started at the end of February 2017 and concluded in late June.
After restoration's works in order to celebrate the reopening of this jewel of baroque art, it has been decided to host the masterpiece La visitazione by Luca Della Robbia, one of the fathers of Renassaince art in Italy. The artwork depicts the warm meeting between Vergine Maria and her cousin Elisabetta as it's described in Gospel of Luca. La visitazione will be on display in the Church of San Leone until January 2018, whereupon it will be returned to San Giovanni Fuorcivitas Church in which is usually located.
Info: pistoiaturismo.it
Pistoia
History, nature and food in the shade of the Apennines
A captivating Roman city, Pistoia is a place that wows art lovers and tourists in search of centuries-old traditions. Poets and writers have always praised its charms, calling it the "city of enchanted stone" and the "city of wide streets and beautiful churches". ...
Morekeyboard_backspace
You might also be interested in