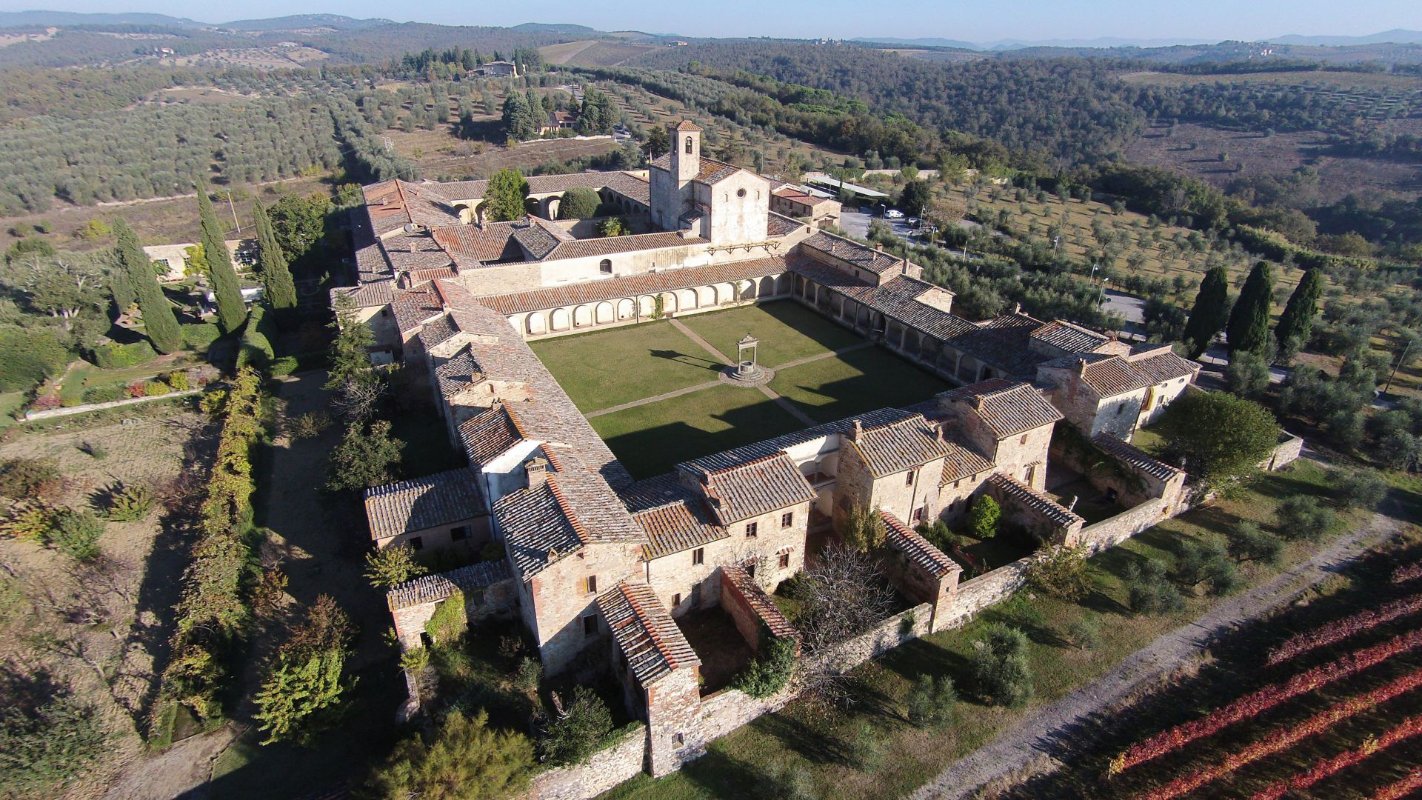 Photo ©www.lacertosadipontignano.com
Places of worship
Certosa di Pontignano
A place of meditation and art
The Certosa di Pontignano, designed by Bindo Falcone, nephew of cardinal Riccardo Petroni, was founded in the mid-1300s. Few traces of the first monastery remain today since it was completely rebuilt in the mid-1500s following a fire that caused heavy damage. The complex is almost rectangular in shape, in line with the traditional iconography of charterhouses, in three areas: the first one is the part of the complex used by the monks, comprised of 12 cells arranged around a large courtyard; the second is the church and the cenobitic rooms; and the third was used by the lay brothers. The church is located at the centre of the monastic complex and overlooks the cloister used by the lay brothers and those taking their votes of obedience. Two-thirds of the space is occupied by an area dedicated to the monks, with a wooden choir that has 12 benches sculpted by Domenico Atticciati in 1590.
The interior vaunts extensive frescos covering the walls and vaults. The paintings were begun in 1579 with episodes of St. Bruno Receiving the Rule from St. Peter and St. Bruno in Ecstasy on the entrance wall. The other walls are decorated with Episodes from the Life of St. Peter and St. Bruno, along with paintings of saints, the evangelists and the Church Fathers. The vaults contain frescoes of Episodes from the Life of the Virgin Mary, the Passion of Christ and St. John the Baptist. The paintings have been attributed to Poccetti, but they were also carried out by other artists in his circle, like Orazio Porta and the Sienese painters Alessandro Casolani and Vincenzo Rustici. The monastic complex was purchased in 1959 by the University of Siena, and today hosts talks and conferences.
Castelnuovo Berardenga
Charming hills, romanesque churches and a sea of castles
Nestled among the blossoming hills of the Chianti and the incredible landscape of the Crete Senesi, the charming area of Castelnuovo Berardenga is found just outside Siena, on the hills separating the first part of the Ombrone valley from the Arbia stream. ...
Morekeyboard_backspace
You might also be interested in