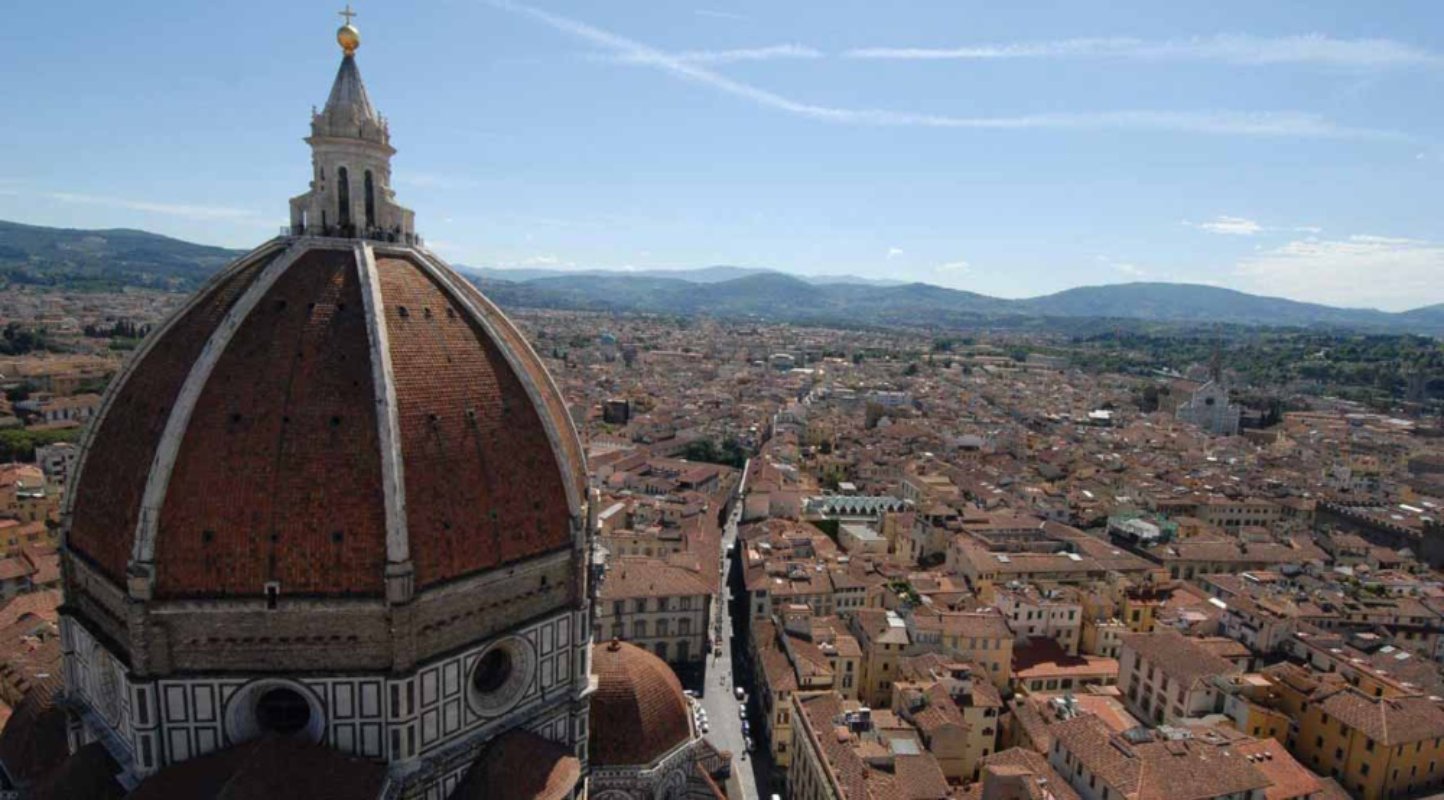 location_cityHistorical Buildings
Brunelleschi's Dome
The cupola is surprisingly modern!
When Filippo Brunelleschi was appointed to continue the work already done to the cupola (the dome) of Santa Maria del Fiore in 1420, the general layout and design were already in place due to the work done by his predecessors: Arnolfo and Talenti. The internal diameter was near the maximum limit of any type of bricked dome constructed at the time. Since the Pantheon was built centuries before, no other bricked cupola was made that big for fear of collapse. This fear was partially due to the collapse of Haggis Sofia cupola in Constantinople in 1346.

In 1400, the Florentines had to strengthen the structure of the Baptistery, which was starting to give way. Instead of looking for solutions that were already used in precedence, Brunelleschi invented a technique based on ancient Rome's 'way of bricklaying' (he also studied medieval and oriental building in this instance). He also had to construct a huge cupola. The possibility of building such a large cupola was based on an innovative building technique that avoids any kind of discontinuity of the masonry and allows for an easier construction of the wooden supports needed to sustain this kind of structure. The shape of the bricks, which are called 'herringbone bricks', used by Brunelleschi allowed him to construct the wall listels, each one having a type of vertical hook for the successive hooks. In this way, the cupola was able to be a self-supporting and expansive structure. The result: it was surprisingly modern. Regarding the cupola's double shell, the lighter exterior cupola protects the inner cupola from the elements, while the two work together thanks to the powerful connecting ribs.

Inaugurated in March 25, 1436, the cupola is the most characteristic feature of the Florentine skyline, symbolizing a great cultural tradition and the city's civic awareness. The cupola's interior was decorated by Giorgio Vasari (1511-1574) and Federico Zuccari (c. 1540-1609) with a large fresco depicting the Last Judgement.

Info: ilgrandemuseodelduomo.it
Florence
An astonishing city of art, fashion and tradition
If you are visiting Tuscany you cannot miss Florence. The Renaissance city is a treasure trove of art with an astonishing contemporary vibe. Beyond the extraordinary artistic heritage, a testimony to its centuries of civilization, the best way to enjoy Florence is to stroll along the riverside avenues at sunset, or to get lost among the city's myriad alleyways of the bohemian Oltrarno or the ...
Morekeyboard_backspace
You might also be interested in