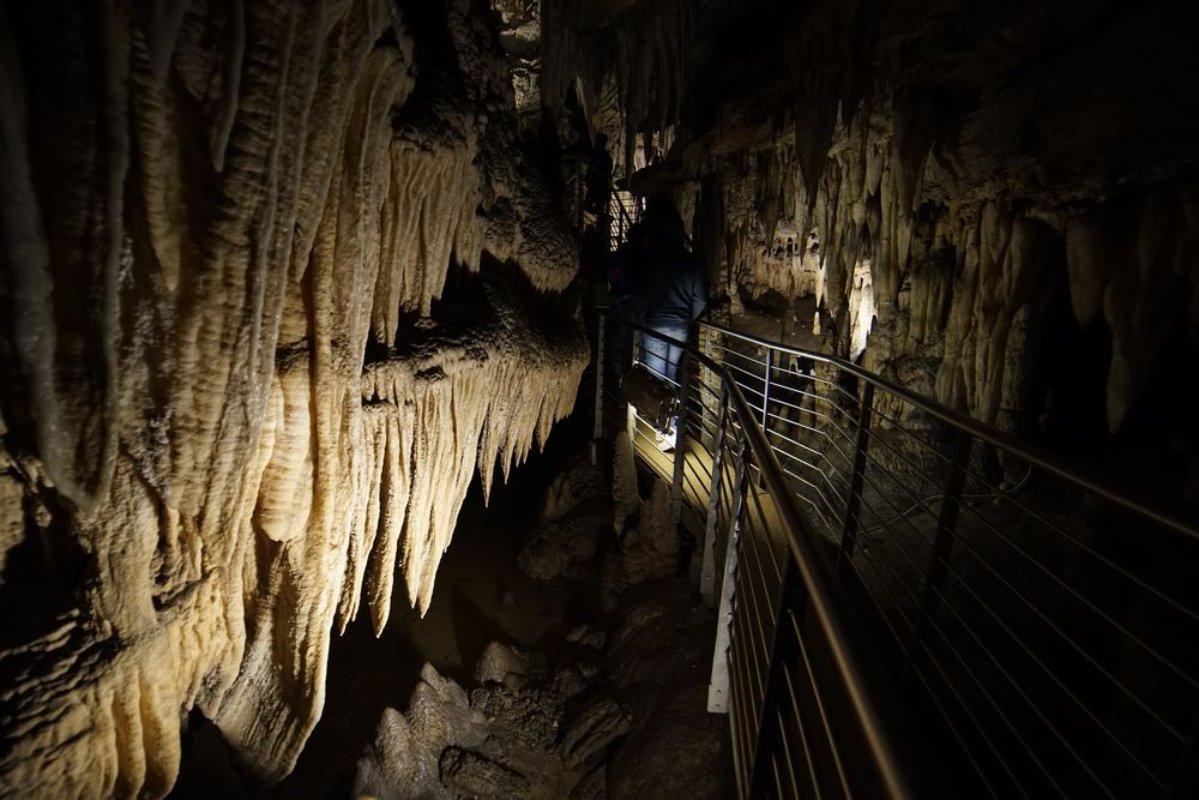 Photo ©
Emanuele Baroncelli
natureNaturalistic attractions
Antro del Corchia
Tunnels and stalagtites in Levignani di Stazzema (Lucca)
Monte Corchia, in the Regional Park of the Apuane Alps, is part of the largest karstic systems in Italy and one of the broadest in Europe, covering more than 60 km of tunnels, with a difference in height of 1 200 m and vaunting 5 million years of geological history. Although explorations of the caves, the third deepest in Italy, began in the 19th century, it was only in 2001 that the public were able to enjoy the majestic columns of stalagmites and stalagtites, the beds of lava, the hardpans and even subaquatic
concretion
s like "cave pearls".

Having reached the village of Levigliani di Stazzema, a shuttle bus navetta leads you to the entrance of Antro del Corchia, carved into an abandoned marble cave, 860 m above sea level. You carry on into a man-made tunnel for about 170 m until you reach the actual entrance into the karstic cave. On your right, as if standing guard over the entrance, is the "Gendarme", a stumpy, conical stalagmite. Having walked through the "Galleria Franosa", you reach the "Galleria degli Inglesi". Here, your gaze meets with rusty red, white and brown concretions: for this reason it was once known as the "Galleria Dipinta" (the painted tunnel). Later, its name was changed to pay tribute to the nationality of the speleologists who discovered it.

The silence of the mountain is interrupted by a small waterfall that drops down from a tall chimney; in the "Galleria del Venerdì," a striking drip concretion resembles an eagle with unfurled wings. The water of the "Laghetto del Venerdì" passes over it (the water isn't very deep). They also pass over the dense fossilization of the "Foresta Pietrificata", until we find ourselves before the natural wonder of the "Galleria delle Stalattiti". It's hard to compare it with other underground spaces, as beautiful as they might be: a large pillar alone seems to want to hold up the entire mass above, where the concretions, piling up one on top of the other, fall down along the walls, diving into small pools of water.

As far as the tours are concerned, there are two speleological routes (both 3h long): the Galleria della Neve and the Ramo del Fiume, which are not recommended for those with walking difficulties as the route features 1 800 steps. The cave always maintains a temperature of +7.6 °C, so you should dress appropriately (long sleeves, sweater, comfortable shoes); you can hire rubber-soled shoes and a fleece.

The following places are worth visiting nearby: Marmitte dei Giganti (huge caves eroded by water, near the Galleria del Cipollaio), the Isola Santa-Stazzema, the Romanesque church of Santa Maria Assunta in Stazzema and the Museum of Resistance as well as the National Park of Peace of Sant'Anna di Stazzema.
Stazzema
Castles, fortified sites and medieval tunnels
Surrounded by the Apuan Alps, Stazzema is a scattered town, forming part of the historic Versilia region—in the area, it's the only town that is entirely mountainous. With its magnificent setting and panoramic views, you'll want to admire its numerous hamlets—a solid 17 of them—which are spread down the slopes of the mountains. ...
Morekeyboard_backspace
You might also be interested in