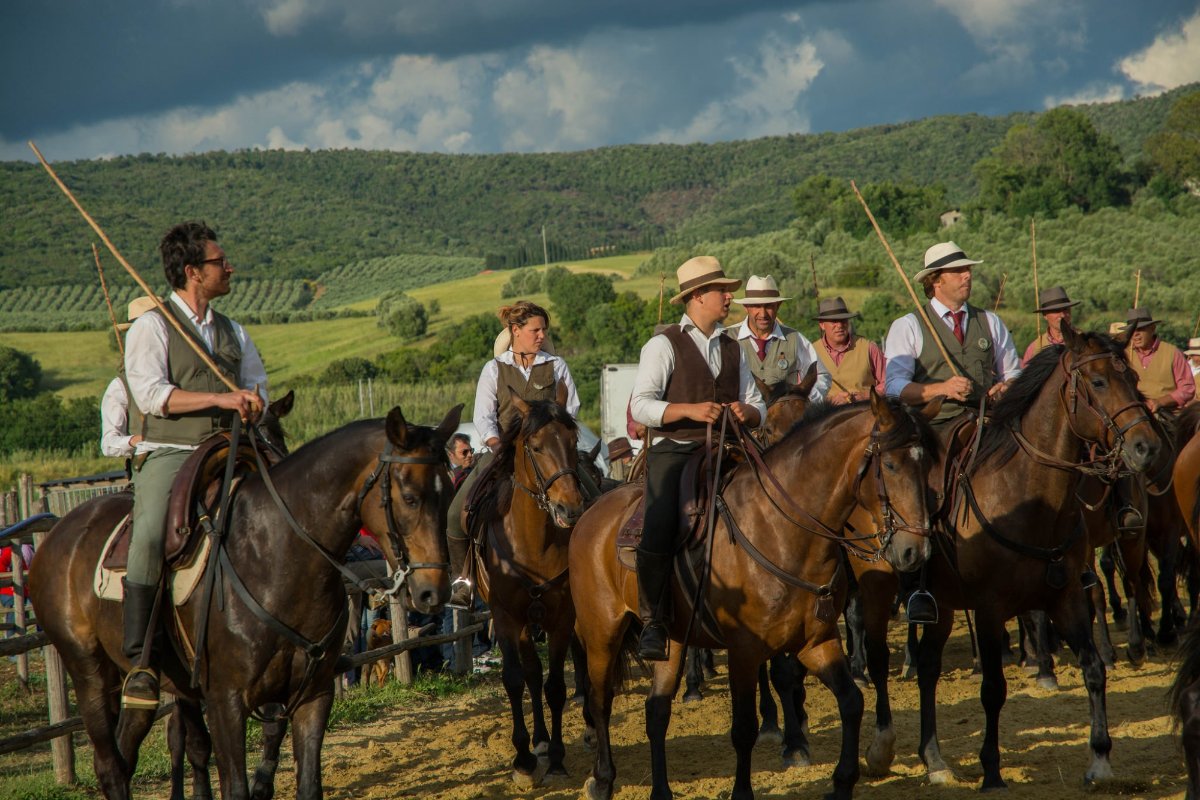 Southern Maremma is a wild land, where the most unspoilt nature reigns supreme, made up of Mediterranean scrub that inebriates with its various aromas, from the hilltops to the sea. It's also a coastal land, its crystal-clear waters a metaphor for the purity and authenticity of this area, where the sea lives harmoniously side-by-side with the inland, home to unique villages and a rich history.
A single summary of the undisputed charm of this environment is the Maremma Regional Park, 9,000 hectares of untouched nature, where herds are raised in the wild and animals live undisturbed in their habitats. Today, shrubbery and pine forests prevail, and the marshland that's led to this area being known as "bitter Maremma," is a fascinating place for birdwatching and fishing, like in Capalbio, home to the beautiful Lago di Burano WWF Oasis, or Orbetello, where eels, a popular part of local cuisine, swim freely.
This territory hosts a wealth of attractions from the inland areas all the way to the coast, where high cliffs are alternated with little beaches and coves. An elegant destination in these parts is definitely the Argentario, with its seaside villages, including Porto Stefano, Porto Ercole, Orbetello and Capalbio. In these towns, one can truly get a sense of the area's strong history of fishing, clear even in the various artisan trades, like axe masters (boat makers), and in traditions like the Palio Marinaro, which takes place on Ferragosto, August 15.
The Maremma is so much more than just the seaside though: the opportunities are endless for exploring characteristic villages, starting with the coastal town of Capalbio and Campagnatico, and on to Manciano, home to the famous Saturnia Hot Springs, and Montemerano, considered one of the Most Beautiful Villages in Italy. There's also Magliano, which together with Scansano is known for its vineyards that produce the delicious Morellino DOCG wine. Of course, Grosseto goes without saying, the capital of the region and home to priceless art treasures, like the cathedral, all enclosed in the medieval walls surrounding the historic centre.
Today's visitors aren't the first to see the beauty in this territory: the Etruscans and Romans chose to settle in this area, leaving us with traces of civilizations that thrived, but which nonetheless remain a mystery to us. The archeological areas in Roselle and Sovana are must-sees, as well the one in Ansedonia, where the ancient city of Cosa was located. The Vie Cave are also interesting to explore, trails carved deep into the rocks, crisscrossing the Città del Tufo Archeological Park. And when it comes to a holiday in Southern Maremma, stretching from the sea to the hilltops, there's no better place to end your stay than in Pitigliano, a fairy-tale-like village nicknamed "Little Jerusalem" because of the influence of the Jewish community that settled here centuries ago.
Destinations in Southern Maremma